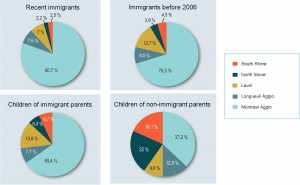 Top-ten destination in North America
By Robert Frank
www.thesuburban.com
They're much better educated than the population-at-large, but more than twice as likely to be unemployed, and those who have jobs tend to be overqualified.
International immigration, according to a Montreal Metropolitan Community report, is the "single biggest demographic growth factor" behind Laval's booming population.
Although only about one in 15 recent newcomers to Montreal choose live on Île Jésus, Laval's share of Montreal immigrants jumps to one in eight of those who arrived in Canada more than five years earlier.
Newcomers comprised 24.6 per cent of Laval's population in 2011, up from 15.5 per cent a decade earlier.
"Nearly one out of four people were born abroad, a proportion that could rise to nearly one in three by 2031," the report predicted.
Besides reaching 10th place among immigrants' favourite North American destinations, attracting 321,700 immigrants from 2001-2011, the Montreal Metropolitan Community ranked sixth on the continent for attracting newcomers with a university degree (49 per cent).
Nonetheless, the report revealed that 15.7 per cent of the immigrants who arrived in the region during the past decade are without work — more than double the 6.5 unemployment rate for those born in Canada.
Laval's non-immigrant population growth is sluggish, by comparison.
"The immigrant population is growing much more rapidly," the report emphasized.
The biggest factor driving the increased numbers, it added, is the spike in the amount of immigrants who are seeking a better life.
While the number of economic immigrants has grown during the past decade, the number of family reunifications and refugees has remained flat for the overall Montreal region throughout the same period.
Since Laval tends to attract immigrants who have been here longer, the city sees a larger proportion of the region's family reunifications (6.6 per cent) than of economic immigration (5.2 per cent), though.
The statistics showed that only 4.5 per cent of refugees who arrived in Quebec between 2006-2012 opted live in Laval, the second-lowest after the Laurentian-Lanaudière region. More than half of the province's refugees resided in Montreal (55.9 per cent) during that period.
(function(i,s,o,g,r,a,m){i['GoogleAnalyticsObject']=r;i[r]=i[r]||function(){
(i[r].q=i[r].q||[]).push(arguments)},i[r].l=1*new Date();a=s.createElement(o),
m=s.getElementsByTagName(o)[0];a.async=1;a.src=g;m.parentNode.insertBefore(a,m)
})(window,document,'script','//www.google-analytics.com/analytics.js','ga');
ga('create', 'UA-45892555-1', 'robertfrankmedia.blogspot.com');
ga('send', 'pageview');