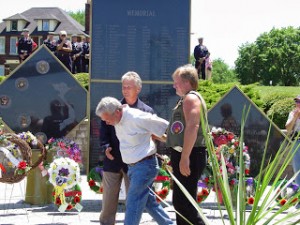 By Tracey Arial
www.arialview.ca
Forty-six years ago, Gary Francis Shaw went missing during a ground battle in Kon Tum Province, Vietnam. The Windsor native was 19 years old. He presumably died, but his body was never recovered.
Shaw's official home of record when he enlisted in the United States Army was Toledo, Ohio. For more information, refer to his legacy page.
Gary Francis Shaw's name joined that of other Canadian soldiers on the Canadian Vietnam Veterans Memorial in Windsor, Ontario. They all died in Vietnam while serving with either the U.S. or the Canadian Armed Forces.
The monument in Windsor owes its existence to cooperation between three Americans (Ed Johnson, Ric Gidner and Chris Reynolds), parents of soldiers who died in Vietnam, Canadian Vietnam veterans (Lee Hitchens, Mike Ruggeiro, Al Clause, Mike Gillhooley, Ron Mella and Don Sinclair, among others), then-Windsor Mayor Michael Hurst, members of the Windsor Legion and one-time Canadian Senator Jack Marshall.
Every year, veterans gather at the site to remember Canadian soldiers who died in Vietnam, like Gary Shaw. They don't do it Nov. 11, the day of Shaw's death, however, because for too long they weren't welcome in Remembrance Day parades. Instead, Vietnam veterans organize runs to various walls across North America in May, June and July.
The traditional reluctance remains toward recognizing Vietnam veterans' sacrifices—like those of any other soldiers—but now and then creative people try to change that reality.
The latest effort in this vein is
Next Stop-Vietnam: Canadians in Combat,
a documentary by War Story Productions. It aired, Nov. 10 on History channel. For more information about subsequent airing, refer to
War Story's website
.
Veterans commemorate Vietnam-era soldiers at the Canadian Vietnam Veterans Memorial every summer.
(July 2, 2005 photo)
(function(i,s,o,g,r,a,m){i['GoogleAnalyticsObject']=r;i[r]=i[r]||function(){
(i[r].q=i[r].q||[]).push(arguments)},i[r].l=1*new Date();a=s.createElement(o),
m=s.getElementsByTagName(o)[0];a.async=1;a.src=g;m.parentNode.insertBefore(a,m)
})(window,document,'script','//www.google-analytics.com/analytics.js','ga');
ga('create', 'UA-45892555-1', 'robertfrankmedia.blogspot.com');
ga('send', 'pageview');