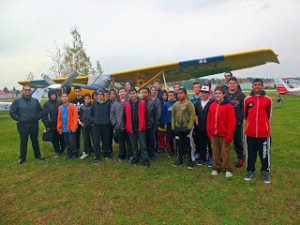 By Robert Frank
www.thesuburban.com
Laval teens interested in aerospace can now join the city's first English-language Royal Canadian Air Cadet Squadron.
The 36 youth who have enrolled so far in 100 Squadron—a newly formed cadet unit in Chomedey—have already enjoyed some first-hand aviation experience.
"We went gliding for the first time, Oct. 19, in Lachute," Capt. Sonia Côté, commanding officer of 100 Squadron told The Suburban in an interview, "The cadets spent the following weekend outdoors undergoing aircrew survival training nearby in Gore, Quebec."
"They did pretty well, considering that it snowed all weekend!" Capt. Côté recalled. "It fostered a strong bond between the cadets and the officers who provide supervision and training. They made new friends and learned a lot."
"The decision to create a new air cadet squadron was in response to an initiative of Laval Liberty High School (LLHS)," she explained. "The school approached the Air Cadet League which supported the request."
The unit meets at LLHS, 3200 Souvenir, on Thursday evenings during the school year.
"It's a great partnership," said Capt. Côte. "LLHS' principal and staff have been very supportive of 100 Squadron."
According to Capt. Côté, the Air Cadet program provides a strong incentive its members. Youth who perform well can earn a flying scholarship worth thousands of dollars that leads them to earn a private pilot's license. Cadets can also learn to pilot engineless glider aircraft.
"Since we're new, we only have one senior cadet, who transferred from another squadron," she explained. "The remaining cadets are learning the basics, to ensure they understand what the cadet program is all about. They're supported by six officers and another four civilian instructors."
The cadet program also offers summer camps at various locations across Canada as well as giving selected youth the opportunity to participate in exchange visits to other countries.
The Air Cadet program is supported by the Royal Canadian Air Force, and the officers are members of the Canadian Forces. However, even though the cadets also wear uniforms, they are not members of the military, and there is no obligation for them to perform military service, once they become adults.
Capt. Côté added that 100 Squadron still has room to accommodate more youth who want to join.
"Anyone who is interested in learning more should call us."
Lloyd McIntyre, the chairman of the 100 Squadron sponsoring committee can be reached at [514] 676-1770 and the unit's Facebook page is listed under '100Laval'.
Posing with the Bird Dog tow plane, teenage members of Laval's new Royal Canadian Air Cadet 100 Squadron went gliding near Lachute, Quebec, Oct. 19.
(function(i,s,o,g,r,a,m){i['GoogleAnalyticsObject']=r;i[r]=i[r]||function(){
(i[r].q=i[r].q||[]).push(arguments)},i[r].l=1*new Date();a=s.createElement(o),
m=s.getElementsByTagName(o)[0];a.async=1;a.src=g;m.parentNode.insertBefore(a,m)
})(window,document,'script','//www.google-analytics.com/analytics.js','ga');
ga('create', 'UA-45892555-1', 'robertfrankmedia.blogspot.com');
ga('send', 'pageview');