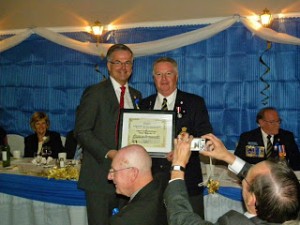 By Robert Frank
www.thesuburban.com
Some 250 teens from all the cadet corps in Laval will be joined by Laval Liberty High School students during Chomedey's Remembrance Day parade, Nov. 10.
Royal Canadian Legion Branch 251 president Christopher Wheatley will preside over the annual memorial ceremony. He will be joined by federal, provincial and municipal dignitaries including Chomedey MNA Guy Ouellette.
"The parade will depart from the Marché aux puces near Sami Fruit and march to the Laval cenotaph near city hall," Chomedey Legion organizer Patricia Vézina told The Suburban. "The Royal 22nd Regiment will again be providing the sentries at the cenotaph this year."
The Chomedey Legion's poppy campaign is also at full stride.
"We have visited the Maxi stores on Samson and St. Martin, the IGA on Dagenais, Wal-Mart and the Metro and IGA stores in Ste. Rose," reported Legion spokesman Gilles Deschambault.
"The funds help to support veterans in need," he said. "Though our last World War I veteran passed away several months ago, we still have World War II veterans, and also serve veterans of Korea, Vietnam and Afghanistan."
"The poppy fund also provides scholarships for the descendants of veterans," Deschambault added.
He took the opportunity to remind members and their friends that the Chomedey Legion will be holding a country dance evening at its premises at 2000 Curé Labelle, Nov. 22.
"The band Double Image will be performing country music live that night," Deschambault said. "There will be line dancing and conventional country dancing."
For more information, call Branch 251 at [450] 681-6722.
(Left to right) Chomedey MNA Guy Ouellette presented Royal Canadian Legion Branch 251 president Christopher Wheatley with a National Assembly certificate to mark the 50th anniversary of the Chomedey Legion, during official festivities, Oct. 5.
(function(i,s,o,g,r,a,m){i['GoogleAnalyticsObject']=r;i[r]=i[r]||function(){
(i[r].q=i[r].q||[]).push(arguments)},i[r].l=1*new Date();a=s.createElement(o),
m=s.getElementsByTagName(o)[0];a.async=1;a.src=g;m.parentNode.insertBefore(a,m)
})(window,document,'script','//www.google-analytics.com/analytics.js','ga');
ga('create', 'UA-45892555-1', 'robertfrankmedia.blogspot.com');
ga('send', 'pageview');