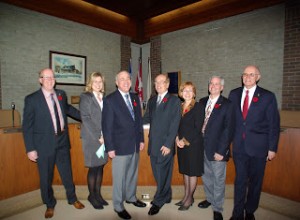 By Robert Frank
www.thesuburban.com
Only three familiar faces were among the seven-member Beaconsfield city council sworn-in during an official ceremony at city hall, Nov. 8.
Joining seasoned Councillors Wade Staddon (District 3) and Pierre Demers (District 4) is animal rights activist Karen Messier, whom voters returned to represent District 2, after four years on the sidelines.
The remaining council consists of newcomers to elected office including Mayor Georges Bourelle, a retired businessman who won a tight race against outgoing District 6 councillor Rhonda Massad.
"I'm looking forward to having more time to devote to the two companies that I operate," outgoing Mayor David Pollock, who was on hand during the swearing-in ceremony, told The Suburban.
Pollack added that he has no regrets about the time he spent visiting city hall daily as mayor, which he saw as "valuable community service."
Events services professional Peggy Alexopoulos will be representing District 6, filling the post that Massad vacated to run for mayor.
Another newcomer, asset management expert Roger Moss, was elected in District 5. David Pelletier, who was prominent four years ago in opposition to a development of a 46-unit apartment complex for seniors in Beaurepaire Village, was elected in District 1. The district's residents had been without representation for more than a year since Mike Montagano's abrupt resignation, Oct. 17, 2012.
Montagano had chaired the city's urban planning committee, which reviewed proposals to modify a controversial property at 601 Lakeshore.
In September, 11 months after Montagano quit, Sûreté du Québec Const. Peter de Castris was suspended and arrested together with three other individuals, after they were accused of attempting to intimidate Beaconsfield city officials responsible for reviewing and approving construction and renovation proposals for the property.
All members of the outgoing city council had been questioned by police, after Beaconsfield director of urban planning Denis Chabot suffered injuries in an alleged assault at Summerlea Golf Club, Oct. 5, 2012.
Due to his injuries, Chabot did not return to work until January.
Beaconsfielders (left to right) Pierre Demers (District 4), Peggy Alexopoulos (District 6), Wade Staddon (District 3), Mayor Georges Bourelle, Karen Messier (District 2), David Pelletier (District 1) and Roger Moss (District 5) were sworn into office at city hall, Nov. 8.
(function(i,s,o,g,r,a,m){i['GoogleAnalyticsObject']=r;i[r]=i[r]||function(){
(i[r].q=i[r].q||[]).push(arguments)},i[r].l=1*new Date();a=s.createElement(o),
m=s.getElementsByTagName(o)[0];a.async=1;a.src=g;m.parentNode.insertBefore(a,m)
})(window,document,'script','//www.google-analytics.com/analytics.js','ga');
ga('create', 'UA-45892555-1', 'robertfrankmedia.blogspot.com');
ga('send', 'pageview');