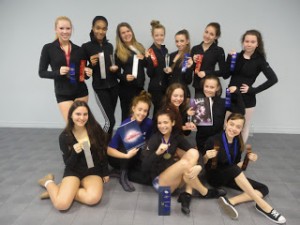 By Tracey Arial
www.thesuburban.com
Seven dancers who train at the Dans'Atout Studio in LaSalle will take part in the Dance World Cup to take place in Montreal later this year. Four of the girls live in Verdun; three live in LaSalle.
They qualified during the Showtime Competition in Mont Tremblant last month.
"I was nervous because it was my first solo that I was doing in competition," said Alexandra Pileggi, whose Jazz performance won second prize. "The environment of the competition was really comfortable. They would scream for everyone. They cheered for everyone. During the awards, everyone would clap for all of us."
The competition venue at the Fairmont Mont Tremblant was unusual too, said Jessica Dupont-Roux, whose contemporary solo also garnered an invitation to the World Cup. "We're used to dancing on floors, but not during a competition."
Pileggi and Dupont-Roux are also part of the seven-person senior team that won the group dance with Cristin Bleau, Harmany Giubilei-Westcott, Kelsey Devaney, Manuela Bertolotto and Sarah Chikh. They'll perform as a group at the World Cup too.
The two three-person junior teams also did well, placing second and third in their age categories, even though this was their first year competing.
"It was really great feeling because you're really nervous at first, but I guess that once you begin performing that disappears," said Madison Soso, who collected the trophy for her second-place team. "It's a really good experience. We're always in the studio and it's great to get out. We practiced for months. It made the journey much more fun because we're friends."
Locals got to enjoy all the top-rated performers during Dans'Atout's end-of-year show last Sunday.
Volunteers and parents who such success possible will be treated to a barbecue in the dance studio parking lot, June 1.
The 6th Annual World Cup will attract 2,000 dancers from around the world to the Outremont Theatre from July 8-10. For more information, check out the website" www.danceworldcup.com.
Top row: Jessica Dupont-Roux , Madison Soso, Melissa Harris, Cristin Bleau, Alexandra Pileggi, Manuela Bertolotto, Harmany Giubilei-Westcott
Bottom row: Giuliana Frascione, Kelsey Devaney, Sarah Chikh(a little in front), Meghann Schiavone, Sabrina D'Angelo, Sabrina Lemelin
(function(i,s,o,g,r,a,m){i['GoogleAnalyticsObject']=r;i[r]=i[r]||function(){
(i[r].q=i[r].q||[]).push(arguments)},i[r].l=1*new Date();a=s.createElement(o),
m=s.getElementsByTagName(o)[0];a.async=1;a.src=g;m.parentNode.insertBefore(a,m)
})(window,document,'script','//www.google-analytics.com/analytics.js','ga');
ga('create', 'UA-45892555-1', 'robertfrankmedia.blogspot.com');
ga('send', 'pageview');