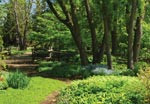 By Tracey Arial
www.thesuburban.com
Now that their biggest event of the season is done, the summer season at Laval's Centre de la nature, 901Parc, is almost fully underway.
With 12 gardens, a tropical greenhouse, a small zoo, a lake that's great for kayaking and canoeing, a deer park and a pony carousel, the park is a great place for a pleasant day outdoors.
The walking club won't begin for another couple of weeks, but in mid-June, anyone can join the groups for a 5 km walk on Tuesdays, Thursdays and Fridays from 8:30 until 9:30 a.m. (meet Françoise Guay in parking lot 3, a few minutes before 8:30 to register.)
Final figures for participation and the amount raised for the Red Cross during last week's annual fishing festival (Saturday, May 18; Sunday, May 19 and Monday, May 20) aren't yet in, but the lake was stocked with more than 5,000 trout. Since the festival is designed to introduce the sport to newcomers, gear was available for rent and no fishing permits were required. Fishing was reserved for adults on Saturday and Sunday morning, but any member of the family could participate in the afternoons and all day Monday. There was a limit of five trout per person per day. Various outdoor and environmental associations ran informational kiosks and the city arranged for inflatable games for children to enjoy and lunchtime hot dog sales were held to raise money for the Red Cross. The event attracted 15,000 people in 2012.
(function(i,s,o,g,r,a,m){i['GoogleAnalyticsObject']=r;i[r]=i[r]||function(){
(i[r].q=i[r].q||[]).push(arguments)},i[r].l=1*new Date();a=s.createElement(o),
m=s.getElementsByTagName(o)[0];a.async=1;a.src=g;m.parentNode.insertBefore(a,m)
})(window,document,'script','//www.google-analytics.com/analytics.js','ga');
ga('create', 'UA-45892555-1', 'robertfrankmedia.blogspot.com');
ga('send', 'pageview');