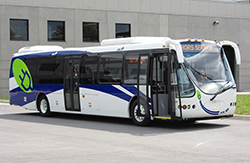 By Tracey Arial
Quebec's first standard-sized electric bus began operating in city streets in Laval last month and will continue its test run until August 25.
Built by North Carolina company DesignLine, the new electric bus will be able to travel about 200 km or so before it needs to recharge for 6-8 hours, so it will take some experimenting to determine how best to integrate it into the system.
"If all tests prove conclusive, the new vehicle will be integrated into the STL's regular network starting this fall," says a statement from the Societé de transport de Laval.
The current electric bus test project will cost a total of $2 million, including the $900,000 vehicle price-tag.
The electric bus will operate on various routes during the trial, but several public displays have also been organized. The first ones took place at terminus Cartier. Upcoming ones will occur throughout the summer.

Electric Bus Viewing at STL Open Doors, June 2
You can also see it at the STL open doors day on Sunday, June 2, at 2250 Francis Hugues, from 9 a.m.-4 p.m.

Electric Bus Viewing at Salon du véhicule vert de Laval, June 9
The 40-foot-long vehicle will be a key attraction at the Salon du véhicule vert de Laval, at École Val des Arbres, 3145 Saguenay on June 9, from 12:30-4:30 p.m.
Free Electric Bus Shuttle Weekends
There will also be free public shuttles from 10 a.m. until 2 p.m between the Montmorency and Le Carrefour terminuses on the weekends of June 15 and 16, July 6 and 7, and August 3 and 4.
(function(i,s,o,g,r,a,m){i['GoogleAnalyticsObject']=r;i[r]=i[r]||function(){
(i[r].q=i[r].q||[]).push(arguments)},i[r].l=1*new Date();a=s.createElement(o),
m=s.getElementsByTagName(o)[0];a.async=1;a.src=g;m.parentNode.insertBefore(a,m)
})(window,document,'script','//www.google-analytics.com/analytics.js','ga');
ga('create', 'UA-45892555-1', 'robertfrankmedia.blogspot.com');
ga('send', 'pageview');