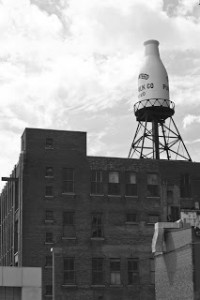 By Tracey Arial
www.traceyarial.com
Remember when every home had a hole in the wall with doors on either side so that glass milk bottles could be delivered for a homeowner to pick up later?
There are a lot of older people who remember that time and a lot of the younger people are interested to discover it," says Éric Giroux, original curator of the "Milk Run Exhibit" for the Écomusée du fier monde on Amherst Street. "It went on until the end of 1960s. People have changed how they consume since then."
"Milk Run" opened at the Dorval Museum of Local History and Heritage, 1850 Lakeshore Drive last week. It continues until August 25.
The roots of the travelling exhibit began in 2002 during an exhibit about wider industrial trends in Montreal.
During that exhibition, we notice a lot of older milkmen and other people connected to the milk industry came, so we decided to interview them during them in 2002 and 2003," said Giroux. "It was a privilege to be able to interview them. A lot of them had started the job working with their fathers. Several of them cried while talking to us. They would tell us about their first milk run, the old truck they used they first drove in, going into people's houses to put the milk in the fridge. They had a lot of pride about their work."
Two of the 25 people they interviewed were filmed and are included in the exhibit. William Kerr and Frank Foti describe an industry in which there was a real trust between the worker and the families they delivered to. Milkmen would deliver to a young couple with children. As the children grew up, married and started their own families, they'd deal with the same milkman. Eventually, they would be invited to weddings and other events like any other part of the family.
The exhibit also describes how the milk industry changed over time from local dairies in the late 1800s to bottling plant. Prior to refrigeration, it was a challenge to keep the milk cold in the summer and prevent it from freezing in the winter in the trucks, for example, but they did it.
Pasteurization in 1926 changed everything. "A lot of people are nostalgic about the bottle of milk and they miss the cream that floated to the top," says Giroux.
The original exhibit opened in the fall of 2010 at the Écomusée du fier monde and ran until the spring of 2011. It was so popular that the Montreal Arts Council has funded it to travel to local boroughs and cities across the island, which is why Dorval now has it.
The Dorval Museum is open Thursday-Sunday, 1-5 pm. Entrance is free. For more information, call [514] 633-4314 or [514] 633-4170.
The milk-bottle shaped water tower on the former Guaranteed Pure Milk factory was restored in 2010. Many consider it an important Montreal landmark.
Photo: Julie Landreville, Collection patrimoine laitier montréalais, Écomusée du fier monde
(function(i,s,o,g,r,a,m){i['GoogleAnalyticsObject']=r;i[r]=i[r]||function(){
(i[r].q=i[r].q||[]).push(arguments)},i[r].l=1*new Date();a=s.createElement(o),
m=s.getElementsByTagName(o)[0];a.async=1;a.src=g;m.parentNode.insertBefore(a,m)
})(window,document,'script','//www.google-analytics.com/analytics.js','ga');
ga('create', 'UA-45892555-1', 'robertfrankmedia.blogspot.com');
ga('send', 'pageview');