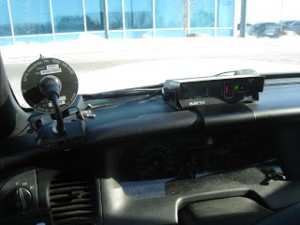 Reckless motorist clocked at 135 in a 50 zone


By Robert Frank
www.thesuburban.com
Hot-blooded drivers who menace public safety have been a perennial complaint at Laval city council meetings. Now, the city's police service has acquired the tools to reduce the carnage on city streets: All of its patrol cars have been equipped with Doppler radar.
"Unlike laser radar, this technology is that it can be used from inside a moving vehicle," Const. Nathalie Lorrain explained in an interview. "It lets patrol officers measure the speed of the car ahead of them."
"Feb. 14, police officers on patrol used the Doppler radar to intercept a motorist driving 135 km/h in a 50 km/h zone on Chomedey boulevard," she reported.
"The idea is to stop the most egregious speeders," said Const. Lorrain. "These are the dangerous drivers whom we hitherto couldn't charge with an infraction."
"Police officers would stop the car but without radar proof, were unable to write a ticket or tell the driver how fast he was going," she continued. "Now, an infraction like the one Feb. 14, will cost the driver a fine of more than $1,500—plus 18 demerit points which will cause him to lose his driver's permit. If the only way that these drivers will mend their ways is to withdraw their driving privileges for a year or two, then unfortunately we will have to do so."
"Citizens have long voiced their legitimate concern about unsafe drivers," she added. "Reducing the number of deaths and serious injuries on Laval streets, is a priority. That's why we've been so proactive during the past three years."
"Drunk driving roadblocks are now held throughout the year, rather than just around Christmastime in December," Const. Lorrain continued. "and we conduct special campaigns to promote awareness of pedestrians."
"In 2010, there were ten road deaths in Laval. That number fell to five in 2011 and, 2012 saw only four. Unfortunately there has already been a traffic fatality in Laval during 2013, but we hope that we can get that figure down to zero in 2014," she observed.
The 90 new Doppler units will also increase police efficiency, by putting back on the road officers who had until now had to stand still at a radar trap.
"We no longer have to take police officers off patrol to counter speeding," noted Const. Lorrain.
New technology nails speeders while police car is moving.
(function(i,s,o,g,r,a,m){i['GoogleAnalyticsObject']=r;i[r]=i[r]||function(){
(i[r].q=i[r].q||[]).push(arguments)},i[r].l=1*new Date();a=s.createElement(o),
m=s.getElementsByTagName(o)[0];a.async=1;a.src=g;m.parentNode.insertBefore(a,m)
})(window,document,'script','//www.google-analytics.com/analytics.js','ga');
ga('create', 'UA-45892555-1', 'robertfrankmedia.blogspot.com');
ga('send', 'pageview');