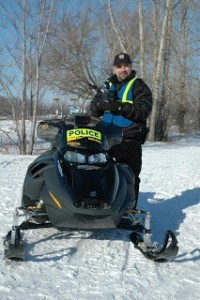 Police dossier: Neighbour's 911 call saves senior from burning home; mag thieves in movie
By Robert Frank
www.thesuburban.com
The Laval police snowmobile squad stopped 145 snowmobilers during a weekend crackdown, Feb. 9-10, and issued tickets to 25 of them.
"Most of the infractions were for speeding," Sgt. Frédéric Jean told The Suburban in an interview. "Some of these snowmobiles can reach upwards of 160 km/h, plus some racing models can go even faster."
"Unless otherwise posted, the municipal speed limit for snowmobiles is 70 km/h," he explained. "If the snowmobile is within 30 m of a residence, though, then that speed limit drops to 30 km/h."
"Other infractions included not having proper registration or insurance or having the proper permit for the trail."
"The object of the weekend enforcement campaign was to ensure that snowmobilers drive at safe speeds," Sgt. Jean continued, "and that they are not driving while intoxicated, which people often forget is an offense under the Criminal Code, just like for cars."
Sainte Dorothée fire


A next-door neighbour's prompt 911 call at 8 a.m., Feb. 13, saved the life of an 85-year-old man at 510 Gervais street.
The Good Samaritan spotted flames licking from the roof of the man's home, reported the fire, then attempted to rescue him, but was unable to gain entry to the house, recounted Sgt. Jean.
"Firefighters and police were called to the scene," he said. "Firefighters found the victim, who was transported unconscious to Sacré Cœur hospital. Family members from out-of-town were notified that evening, at which point the victim was still on life-support."
Mag thieves on YouTube
Four white men aged 20-25 are the inadvertent stars of a popular new YouTube video. The quartet was captured on Maxspeed Motorsports' security camera as they allegedly broke in to the premises at 3125 Industrial boulevard around 8:30 p.m., Feb. 10.
Laval police said that they stole three laptop computers and two expensive mag wheels and tires designed to fit an exotic Audi A-8 sports car, and that they made off in a Nissan Maxima and a Honda Civic.
"The owner of the store has placed the video on YouTube in the hopes of identifying the perpetrators," remarked Sgt. Jean. Anyone with information that could assist in the investigation is asked to call the Laval police confidential tip line at [450] 662-INFO (4636) or dial 911 and mention file number LVL 130211 001.
Snowmobile squad issued 25 infractions during weekend blitz, mostly speeding tickets.
(function(i,s,o,g,r,a,m){i['GoogleAnalyticsObject']=r;i[r]=i[r]||function(){
(i[r].q=i[r].q||[]).push(arguments)},i[r].l=1*new Date();a=s.createElement(o),
m=s.getElementsByTagName(o)[0];a.async=1;a.src=g;m.parentNode.insertBefore(a,m)
})(window,document,'script','//www.google-analytics.com/analytics.js','ga');
ga('create', 'UA-45892555-1', 'robertfrankmedia.blogspot.com');
ga('send', 'pageview');