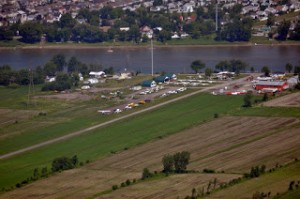 By Robert Frank
www.thesuburban.com
Laval police responded after a homebuilt aircraft crashed at the Contant Aviation aerodrome, Dec. 7.
"As the plane was taking off at about 12:15 p.m., it flipped over and came to rest upside down," said Const. Franco di Genova.
He added that the 55-year-old pilot, who was the only passenger aboard the plane, was taken to hospital where he was treated for minor injuries, "which included a very bad cut on his back."
"Contant Aviation is a private airfield so there is no regulation," Transportation Safety Board of Canada (TSB) senior investigator Denis Deroy told The Suburban in an interview. "It has been there for many years."
"On takeoff, the aircraft moved to the left of the runway and overturned when the nose landing gear hit a farmer's field," he recounted. "The plane was not going fast, so the pilot was only slightly hurt."
Deroy explained that it is not unusual for people to build and fly their own aircraft.
"Anyone can build an airplane and register it in their name," he said. "They are called amateur-built aircraft."
He added that the information that TSB gathers about the accident will be placed in the accident investigation body's database for future reference, "in case something happens to another airplane."
The 4,000-foot general aviation airstrip, located at 8670 des Milles Îles is sometimes referred to as Laval Aviation. The north-south runway is located two miles south of Macscouche Airport.
In 1995, a small Cessna aircraft en route to Contant Airport collided in mid-air with another, similar plane, causing one fatality and two serious injuries.
Situated adjacent to three docks on the shore of the Mille Îles river, the aerodrome consists of several small hangars that can accommodate about three-dozen single- and twin-engine aircraft, including several amphibious planes equipped with pontoons which enable them to land on water and moor at the airport's docks on shore of the Mille Îles river.
Aerial view of Contant Aviation. The little-known amphibious airport in Laval was the scene of a non-fatal plane crash, Dec. 7.
(function(i,s,o,g,r,a,m){i['GoogleAnalyticsObject']=r;i[r]=i[r]||function(){
(i[r].q=i[r].q||[]).push(arguments)},i[r].l=1*new Date();a=s.createElement(o),
m=s.getElementsByTagName(o)[0];a.async=1;a.src=g;m.parentNode.insertBefore(a,m)
})(window,document,'script','//www.google-analytics.com/analytics.js','ga');
ga('create', 'UA-45892555-1', 'robertfrankmedia.blogspot.com');
ga('send', 'pageview');