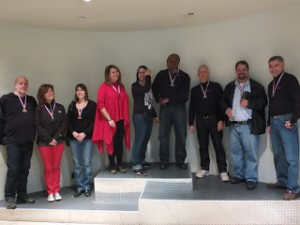 By Robert Frank
The Suburban's Holiday Cup Laval winners (photo at right from left to right): 3rd place, Earl Powell, Amanda Lavigne, Lisa Joslin; 1st place Marianthi Vouitsis, Melanie Pepin, Anthony Bonaparte; 2nd place David Broadman, Rob Taussig, Peter Turnbull.
Some 30 staff from The Suburban left Action500.com in Laval with smiling faces,
Dec. 5, after a fun-filled evening of karting.
Reporter Tracey Arial focuses intently as she rounds a turn.
Photojournalist Robert Taussig rounds a turn on Action500.com's Monaco-like indoor kart-racing circuit.
(function(i,s,o,g,r,a,m){i['GoogleAnalyticsObject']=r;i[r]=i[r]||function(){
(i[r].q=i[r].q||[]).push(arguments)},i[r].l=1*new Date();a=s.createElement(o),
m=s.getElementsByTagName(o)[0];a.async=1;a.src=g;m.parentNode.insertBefore(a,m)
})(window,document,'script','//www.google-analytics.com/analytics.js','ga');
ga('create', 'UA-45892555-1', 'robertfrankmedia.blogspot.com');
ga('send', 'pageview');