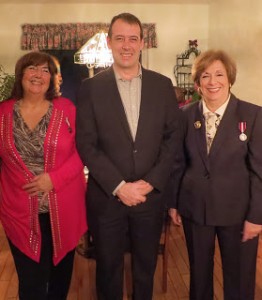 Trauma pioneer, Becket producer, activists for immigrants and the disabled honoured


By Robert Frank
www.thesuburban.com
Frema Engel, who during the 1990s wrote a column on workplace issues in The Suburban, was recognized, Dec. 14, as a Canadian pioneer in addressing workplace traumatic stress and violence.
After receiving the Queen Elizabeth II Diamond Jubilee Medal from Vaudreuil-Soulanges Member of Parliament Jamie Nicholls, Engel poignantly talked about how the horrible news of that day's spree killing of 26 people, including 20 elementary school children in Newtown, Connecticut, had sadly underscored the importance of her life's work.
"In earlier years, it would have been me flying off to help the survivors there, and their families," she remarked. A frequent speaker who promotes a respectful workplace, she expressed the hope that one day her services would no longer be needed, but acknowledged that the world remains a violent place.
Engel is routinely sought out by French and English news media whenever there are outbreaks of mass violence such as at the École Polytechnique, and has long advocated for victims as well as for better response to trauma and bullying. She advises business and institutional leaders how building greater harmony at work not only heals, but can also help underperforming departments to become more productive.
Charity theatre
During the same ceremony, Dr. Barbara Reid received the Diamond Jubilee Medal for her 22 years of volunteer work as a producer and director for the Becket Players. The West Island theatre troupe has, since 1975, raised more than $3.4 million for children's charities.
Nichols noted that Reid successfully balanced family, career and community commitments, devoting up to 40 hours a week to charity productions while raising three active children and working as a pathologist at two different hospitals.
Freedom to sail
On Dec. 9, Lac St. Louis Member of Parliament Francis Scarpaleggia presented the Diamond Jubilee Medal to René Dallaire, in a ceremony at the Forest and Stream Club in Dorval. Dallaire was recognized for founding the Association québécoise de voile adaptée, a sailing club for the mobility-impaired.
Immigrant advocate
In a colourful ceremony at Collège Regina Assumpta, Dec. 16, Quebec Lieutenant-Governor, the Hon. Pierre Duchesne, presented the Diamond Jubilee Medal to Raman Chopra. The founding president of Dollard des Ormeaux's Hindu temple and an active member of Montreal's Indo-Canadian community received the medal for having helped many new Canadians to settle in Canada during the past 30 years.
In 2001, Chopra presented a petition that was tabled in Parliament to abolish the Right of Landing fee and the ten-year residency requirement for landed immigrants from the Old Age Security Act.
(Left to right) Becket Players producer Dr. Barbara Reid, MP Jamie Nicholls, Canadian trauma pioneer Frema Engel.
Immigrant advocate Raman Chopra (left) and his wife Shama Chopra (right) pose with Quebec Lieutenant Governor, the Hon. Pierre Duchesne, following a colourful Diamond Jubilee Medal ceremony, Dec. 16.
(Left to right) Lac St. Louis MP Francis Scarpaleggia, René Dallaire, who founded a sailing club for the mobility-impaired, Sara Cheung.
(function(i,s,o,g,r,a,m){i['GoogleAnalyticsObject']=r;i[r]=i[r]||function(){
(i[r].q=i[r].q||[]).push(arguments)},i[r].l=1*new Date();a=s.createElement(o),
m=s.getElementsByTagName(o)[0];a.async=1;a.src=g;m.parentNode.insertBefore(a,m)
})(window,document,'script','//www.google-analytics.com/analytics.js','ga');
ga('create', 'UA-45892555-1', 'robertfrankmedia.blogspot.com');
ga('send', 'pageview');