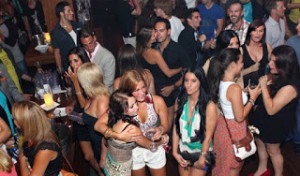 "We try to treat everyone like a VIP"


By Robert Frank
www.thesuburban.com
Laval loves to dance, and Moomba (
www.moombaclub.com
) is the place.
The restaurant-dance club has proved wildly popular. Besides drawing a faithful following, it attracts a who's who of blue chip corporate clients, including Canada's leading airlines, banks, retail giants and pharmaceutical and aerospace firms.
Ten years ago, few sophisticates would have considered leaving behind Montreal's garden of the senses to head north for a fun night out. Other Laval night clubs existed, but catered to a very young crowd.
Nicholas Quévillon looked at Laval's evening entertainment wasteland, saw opportunity, and decided to change all that by opening Moomba.
"There was nothing in Laval of that standard," he recalled. "We saw the new Centropolis was under construction, and we wanted to provide for people who were a bit older."
"We wanted them to be able to have a nice dinner and then after, if they want to stay, to have a nice party."
Together with Moomba's two other owners, Jack Gaspo and Peter Mammas, he set about turning his vision into reality.
Today, Moomba not simply the place to be in Laval: The 250-person restaurant and 1,000-person dance club has built such a strong following that it now draws patrons north from Montreal, as well as from the North Shore and Lanaudière regions.
Constant renewal
Moomba's success hinges on the lengths to which Quévillon goes to please his clients.
Staff are rigorously trained, and the décor is updated for each the club's many events throughout the year, making the experience fresh each time you visit Moomba.
"Personal service is very important to us," Quévillon told The Subruban. "I want the staff to be very nice. When you spend your money here, we try to treat everyone like a VIP."
"We invest a lot of money, transforming the premises so that our guests feel as though they are visiting a new club at each event that we hold."
"On Dec. 31, for example, we held a Casablanca event, where people were urged to dress in suit and tie for a 1940s setting," he said. "We revised the entire décor, altering the look of the interior with drapes and so forth to give the club a North African ambience."
Close to community
Moomba is also close to Laval's strong cultural communities.
"Before Christmas, we held a Greek night, featuring Greek music, oriented toward the Greek community, which is very big in Laval ," Quévillon explained. "On Jan. 5, Moomba will host a Lebanese night, featuring entertainers who are very well known in the Lebanese community."
"We like to give something to our clients," he added. "At the same time, we try to be active in community. We support Greenpeace, and have held a number of fundraising events for it over the years. A few weeks ago, we held an event in support of AIDS victims."
Moomba also tries to minimize its environmental footprint.
"The entire club was built from recycled materials," Quévillion said. "The wood we used was retrieved, and even the concrete that was used to build the bar was recycled."
Revelers packed Laval's Moomba club for its tenth anniversary Save the Planet night.
On Jan. 5, Moomba's Lebanese night will feature Montreal's King of Drums, Fadi Abou Nassif, better known as FADI KOD.
(function(i,s,o,g,r,a,m){i['GoogleAnalyticsObject']=r;i[r]=i[r]||function(){
(i[r].q=i[r].q||[]).push(arguments)},i[r].l=1*new Date();a=s.createElement(o),
m=s.getElementsByTagName(o)[0];a.async=1;a.src=g;m.parentNode.insertBefore(a,m)
})(window,document,'script','//www.google-analytics.com/analytics.js','ga');
ga('create', 'UA-45892555-1', 'robertfrankmedia.blogspot.com');
ga('send', 'pageview');