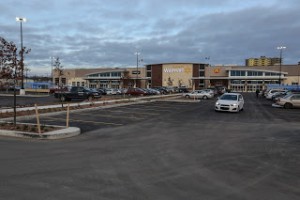 Medical clinic lets customers shop until doctor ready to see them
By Robert Frank
www.thesuburban.com
Vistors to the clinic inside Wal-Mart's new
superstore at 2075 Chomedey boulevard are
issued a pager that beeps them when it's their
turn for medical attention, freeing them to
peruse the aisles for groceries and merchandise while they wait.
"The first customers used the system within five minutes of the store opening, Nov. 8,"
enthused Alex Roberton. "They come back to
the clinic with their carts."
The clinic, which sees about 30-40 people per day, is operated by an independent third-
party and is the first that Wal-Mart has hosted
in Quebec," the retail giant's director of corporate affairs told The Suburban in an interview.
Roberton explained that the clinic will also
have an exterior entrance, located to the right
when facing the store, permitting it to offer
medical services after store hours.
Wal-Mart has also relocated its Quebec and
Atlantic Canada headquarters to offices located behind the superstore.
"It's a sign of our firm commitment to maintain our Eastern Canada headquarters
in Laval," declared Roberton. "It's well situated with transportation links that give us
easy access to a large number of our stores
in the Laval and Montreal area."
"Our headquarters employs up to 30 staff
and provides support for Quebec clients and suppliers, employing ten translators, as well as
people who link the Quebec market with
buyers who are based at our national headquarters in Mississauga."
Together with the regional headquarters staff, the new facility on Chomedey boulevard will employ nearly 400 people.
The move is part of a $750 million that
Wal-Mart is investing this year to upgrade
its infrastructure, including $120 million
for 17 superstores in Quebec. It has already
upgraded its other two Laval stores in
Sainte Dorothée and Laval East, near the
junction of highways 19 and 440, adding
fresh produce as part of its full grocery service.
(function(i,s,o,g,r,a,m){i['GoogleAnalyticsObject']=r;i[r]=i[r]||function(){
(i[r].q=i[r].q||[]).push(arguments)},i[r].l=1*new Date();a=s.createElement(o),
m=s.getElementsByTagName(o)[0];a.async=1;a.src=g;m.parentNode.insertBefore(a,m)
})(window,document,'script','//www.google-analytics.com/analytics.js','ga');
ga('create', 'UA-45892555-1', 'robertfrankmedia.blogspot.com');
ga('send', 'pageview');