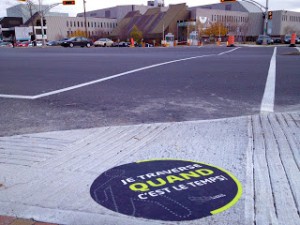 By Robert Frank
Police are taking action to reduce the
number of injuries to pedestrians on
Laval streets.
During the first eight months of 2012,
police reported 79 pedestrian accidents,
six involving serious injuries.
That's an increase of 14 per cent from
2011, on an annual basis.
So, from Nov. 12-23, Laval police have
placed large round markers on the sidewalks at the city's 15 busiest intersections, to remind pedestrians and
motorists to pay close attention to the
rules of the road.
"At this time of year, we have to be
even more prudent, because it gets dark
much earlier and it's much harder to see
you, especially if you're wearing dark
clothes," Const. Natalie Lorrain told The
Suburban.

"It's important not just for pedestrians, but motorists as well to be aware of
the danger."
The city has already erected a fence on
the median near Montmorency CEGEP,
where jaywalking was rife.
"Wherever we see a problem, we
adjust and the city acts," noted Const.
Lorrain.
The 15 Laval intersections police pinpointed as prone to pedestrian accidents
are:
· Laurentian and de la Concorde
· Curé Labelle and Notre Dame

· Concorde and Ampère
· Concorde and Laval
· Laurentian and Grenoble
· St. Martin and McNamara
· Curé Labelle and Samson

· De la Concorde and 12th
· St. Martin and le Corbusier
· Souvenir and de l'Avenir
· Carrefour and Terry Fox
· Laurentian and Cartier (near the
Cartier metro station)
· De l'Avenir and Jacques Tétrault
· De l'Avenir and the Montmorency terminal
Police want Laval pedestrians and motorists to be more cautious at busy intersections like this one between the metro station and CEGEP Montmorency.
(function(i,s,o,g,r,a,m){i['GoogleAnalyticsObject']=r;i[r]=i[r]||function(){
(i[r].q=i[r].q||[]).push(arguments)},i[r].l=1*new Date();a=s.createElement(o),
m=s.getElementsByTagName(o)[0];a.async=1;a.src=g;m.parentNode.insertBefore(a,m)
})(window,document,'script','//www.google-analytics.com/analytics.js','ga');
ga('create', 'UA-45892555-1', 'robertfrankmedia.blogspot.com');
ga('send', 'pageview');