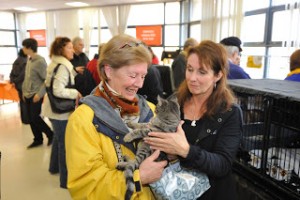 By Robert Frank
Laval residents flocked to
Pavillion du Bois Papineau, Oct.
21, for the city's second annual
pet adoption day.
Dogs, cats, rabbits and guinea
pigs looking for an adoptive
home found new owners during

the popular event.
All canine and feline pets were sterilized and vaccinated before
the event, the cost of which was
offset by the $100-400 fee for the
animals.
In addition to animal shelters,
a number of service providers
were on hand to sport their
wares and services, such as animal first aid, kennels, dog training, dog clubs and pet crematoria.
Citizens were also treated to a
number of workshops. Topics
included: how to find a runaway
pet, how to prevent animal bites; technology trends for dogs &
cats; and microchips & dog
care.
Jacynthe Pelletier (right) of the Laval's Le Chat EAU animal shelter passes Rosemarie Isaac (left) her new cat Amandine.
(function(i,s,o,g,r,a,m){i['GoogleAnalyticsObject']=r;i[r]=i[r]||function(){
(i[r].q=i[r].q||[]).push(arguments)},i[r].l=1*new Date();a=s.createElement(o),
m=s.getElementsByTagName(o)[0];a.async=1;a.src=g;m.parentNode.insertBefore(a,m)
})(window,document,'script','//www.google-analytics.com/analytics.js','ga');
ga('create', 'UA-45892555-1', 'robertfrankmedia.blogspot.com');
ga('send', 'pageview');