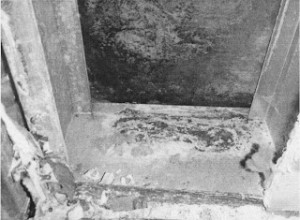 Quebec Superior Court issued an order, Oct. 12, authorizing up to $350,000 in emergency repairs to
Château Royale
, after building inspectors found some walls of the Dollard des Ormeaux seniors' residence were saturated with moisture and showed signs of extensive mould-like staining.
Although tiny amounts of mould are present in almost all residential settings, mould usually poses a health threat only when moisture accumulates in a building. Some moulds produce
mycotoxins
that pose a risk to respiratory health.
According to the National Collaborating Centre for Environmental Health (
www.ncceh.ca
) in Vancouver, "sufficient evidence exists to conclude that exposure to mould in indoor environments is associated with asthma and asthma-like symptoms (in asthmatic people), upper respiratory tract symptoms, cough and wheeze and hypersensitivity pneumonitis in susceptible people."
Château Royale, which was declared bankrupt, May 10, is still being overseen by court appointed receiver Benoît Clouâtre while a new owner is sought.

On Aug. 10, a numbered Ontario company, 2302968 Ontario Limited, offered to pay $14,250,000 to buy Château Royale. However, according to court documents, negotiations are still going on.

In the meantime, the Samson Bélair/Deloitte Touche chartered accountant asked the court to authorize the repairs, which, he said, will start this week and take ten weeks to complete. St. Laurent construction firm Vass-T won the contract to complete the repair work.

"People's safety is important and residents need to know what we're doing to fix the problem," Clouâtre reassured. "Everything will be resolved before winter and nobody is in danger."
The Suburban
obtained a copy of the report by
EdificExperts
, which discovered interior and exterior rock wool and fiberglass insulation that was soaked with water.

It concluded that the Dollard des Ormeaux eldercare facility suffers from poor weather sealing and mortar joints as well as poor water runoff management which "allow for too high a volume of water to penetrate into the wall system of the building."

Inspectors also discovered water pooling on poorly sloped balconies, and bad seals where the balconies meet door sills. Air cavities and holes designed to vent the walls to dry out moisture were partly blocked by mortar droppings, there was no suitable air barrier, and exterior sheathing showed severe water damage and deterioration.

In addition, inspectors concluded that a sixth-floor sprinkler pipe burst during the winter "likely caused by rapid heat loss and less than adequate heating of the space."

According to Clouâtre, the repairs will remedy the problems identified in the handful of rooms that EdificExperts inspected at the Dollard des Ormeaux eldercare centre.

In its report, EdificExperts recommended conducting additional inspections, including a thorough mould analysis, an assessment of the entire exterior wall and urged conducting a visual and infrared assessment of the roofing system of the building "before Fall 2012".
According to court documents, another company,
InspecSol
, was brought in "to conduct an investigation of localized mould."

However, The Suburban was unable to obtain the results of that study M029650-E1, dated June 14, before going to press this week.

"Health-based exposure limits for indoor mould in residential environments have not been established," NCCEH observed. "Inspecting for visible and hidden mould, removing mould where present and repairing and controlling sources of excessive moisture is the best approach to controlling health risks.
Inspectors found evidence of water and extensive dark, mould-like staining in exterior sheathing of the walls of some Dollard des Ormeaux seniors residence Château Royale rooms. After they removed the fibreglass insulation and vapour barrier, they also found that the metal track of the stud wall was corroded.