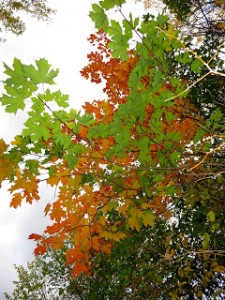 Peaceful Pointe Claire park turning into a riot of colour
By Robert Frank
www.thesuburban.com
Stressed out by provincial politics? You don't need
to escape to the Laurentians to this weekend to get
away from it all.
Right now the best place to catch a glimpse of
Canadian fall foliage is here on the West Island, where
you can take a free sylvan stroll through Montreal's
second-largest nature park.
Call it chromaromatherapy: Besides seeing trees
there approaching their crimson and gold peak, the air
is redolent with the fragrance of fresh cedar that the Pointe
Claire parks department has thoughtfully spread along
much of the 6 km of trails that it lovingly maintains.
Two large streams run through the 45-hectare woods, which was saved after John
Rennie High School student Robin
Cappucino petitioned the city in 1971 to
halt suburban development there.
As a result, Terra Cotta remains one of
the few places on the island where
nature has been left to take its own
course.
Visitors can pause and reflect on
a bridge near the babbling confluence of
its two streams, just a few short steps
from Coolbreeze avenue, or enjoy the bright red fall sumac leaves bordering
the adjoining meadow at the opposite
end of the nature park.
The park is served by several bus
routes and the Pointe Claire commuter
train station, plus there is ample parking
near the Terra Cotta soccer field
entrance to the park, with alternative
entrances off Maywood, St. Louis,
Coolbreeze and Glanlynn.
Dogs on leashes are permitted in the
nature park, provided their owners clean
up after them, but bicycles and motorbikes are prohibited, as is alcohol consumption.
Terra Cotta nature park's maple and oak trees were just starting
to display their autumn colours when The Suburban visited last
weekend.