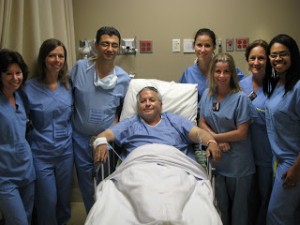 Life-threatening blood clot risk reduced dramatically
By Robert Frank

When Laval resident Maurice
Abourmad entered Cité de la santé, his
coronary artery was almost completely
blocked. Today, he is "in top shape",
according to his doctor.
Not only did his medical team succeed in reopening the flow of blood
from his heart, they did so without the
usual lifelong side-effects typical of
this sort of heart surgery.
"This was the first time in Canada
that a scaffold was used on a clinical
basis," explained hemodynamics cardiologist Dr. Samer Mansour.
"Usually surgeons implant a stent,
made of metallic chromium or stainless steel to open up the blood vessel,"
Dr. Mansour told The Suburban in an
interview. "After a foreign object is
inserted into a blood vessel, patients
have to take blood thinners for the rest
of their lives to avoid the risk of life-threatening blood clots."
"A scaffold is bioabsorbable," he continued. "It decomposes into water and
carbon dioxide."
He explained that while the scaffold
opened up the artery the same way as a
stent does, it is made of a material that
slowly disappears from the body within 12-18 months of the surgery.
In addition, the alternative to
a metal stent is impregnated
with heart medicine, which it
delivers directly to the heart, precisely where it is needed.
"What we have learned is that
every time you put a stent in a
blood vessel, there is some
degree of risk," said Dr. Mansour.
In contrast, "The drug that is on the scaffold prepares the
blood vessel for better healing."
The result is vastly improved quality of life for the patient, he
claimed.
The groundbreaking surgery
was authorized by a special
Health Canada permit, after scientific trials were completed on
the scaffold device.
The dramatically better outcome for heart surgery patients
comes together with with a significantly higher price. The new
procedure costs three to four
times as much as a traditional
metal stent.
From the first recipient's perspective, though, the results are
unequivocal.

"When I returned home, I didn't feel as though I had a device
implanted in me," he concluded.
"I'm eager to return to my previous pace of life."
The first heart surgery patient in Canada to receive a bioabsorbable alternative to a metal stent, Laval resident Maurice
Adourmad (centre) is surrounded by his Cité de la santé medical team consisting of hemodynamics cardiologist Dr. Samer
Mansour, nurses Marie-Ève Caron, Carole Bergeron, Nathalie Tremblay and Élena Valcin, as well as radiology technologists
Isabelle Fleury and Geneviève Arsenault.