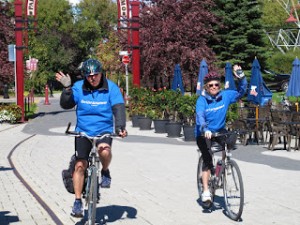 By Robert Frank
www.thesuburban.com
Twenty-eight cyclists collectively pedalled 2,660 km along the P'tit train du
nord bike trail through stunning
autumn scenery, Sept. 22-23, to raise
money for Laval Alzheimer's disease victims and their families.
"It was a tremendous success,"
enthused Laval Alzheimer's Society
development director Michelle Bolduc.
"The cyclists remained in high spirits
throughout, despite inclement weather."
Together, they raised nearly $36,000
to help provide services that will help
Laval residents who are stricken with
Alzheimer's—and their families.
"For every person with the disease,
there are ten people who are affected by
it," Bolduc reminded The Suburban
during an interview, "because it is very
difficult for the family."
"It is very, very hard for the spouse
and children, as well as family and
friends," she explained. "We are there to
provide the support that they need but,
to do so, we need money.
"In Laval alone, there are 5,500 people
over 65 with Alzheimers," she said. "We
get a government subsidy, but it's for
half our budget, so we have to raise the rest of the funds from the public. We
charge nominal fees for our services,
but we keep them low for the families,
and some of them are free."
"We know that there are a lot of people
under 55 who are also affected by the
disease," she said.
Bolduc is keen to reach out to Laval's
Anglophone community which, she said,
doesn't draw upon Laval Alzheimer's Society services anywhere near as much
as it could. She plans to have the
alzheimerlaval.org web site translated
into English in 2013, "but English-speakers shouldn't hesitate to call us
right away if they need help."
"There is always someone here who
can help someone in English, and we
have staff who speak Spanish and Italian,
plus our receptionist can speak Arabic.
"We provide animation and respite
services," Bolduc said, "as well as training for families, to help them cope."
Cyclists pedalled through spectacular Laurentian foliage from Mont Tremblant to Saint Jérôme last weekend, to raise money for the Laval Alzheimer's Society.