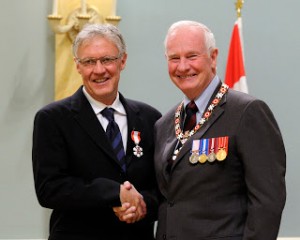 Beaconsfielder demonstrated how
mothers, environment, influence childhood development
By Robert Frank
Beaconsfield resident Michael Meaney received Canada's
highest civilian honour in Ottawa, Sept. 28.
Meany earned the distinction for his groundbreaking
neuroscience research. He demonstrated how maternal care influences molecular
development in a child's brain, which can affect its ability to cope with
stress later in life.
In addition to shedding light on how to prevent disease, the
science of epigenetic programming through maternal behaviour also has public
policy implications.
"Michael's work in neuroscience is hugely important," Alain
Gratton, director of the Douglas Institute research centre said in a statement.
"Thanks to his discoveries, we better understand how parenting affects the
plasticity of genes involved in certain mental disorders."
After teaching at his alma mater, Concordia University, from
1983-1985, Meaney jumped to McGill University's research centre at Douglas
Hospital. He is also a professor in McGill's psychiatry, neurology and
neurosurgery departments.
Known for being among the most highly cited academics in
neuroscience, he was also invested as a knight of the Ordre national du Québec in 2007, and is a member of the Royal
Society of Canada.
Meaney was one of 44 people who were honoured at Friday's
ceremony. The Order of Canada was founded in 1967 to recognize outstanding
lifetime achievement, dedication to the community and service to the nation.
Since its creation, more than 5,000 people from all sectors of Canadian society
and abroad have been invested in the Order.
Governor General David Johnston invested Beaconsfielder Michael
Meaney as a member of the Order of Canada, during a ceremony at Rideau Hall,
Sept. 28.
Photo: Sgt Ronald Duchesne