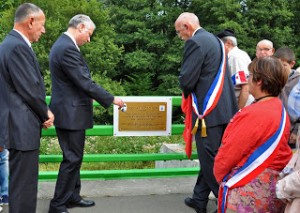 « C'est une histoire d'amour, finalement »
By Robert Frank
www.thesuburban.com
CHARLEVAL, FRANCE—Nearly a thousand people, many dressed in period attire, turned up for festivities to honour Royal Canadian Air Force Flying Officer Allan Cashion, Sept. 1.
Though here in Quebec the 23-year-old pilot has faded from living memory, to this day the West Hill High School grad from Notre Dame de Grâce remains a hero in Normandy, where he died in a dogfight trying to help liberate the village, three weeks after D-Day.
"He's been in our thoughts ever since, and we've been preparing these celebrations for at least 3-4 years," Charleval veterans' association leader Guy Pesier told The Suburban in a telephone interview. "He freed us from the grip of the Germans. He participated in the liberation of France."
The town has named its new bridge Le Pont Allan Cashion, where Mayor Denis Lebaillif and Canadian diplomat Sylvain Ponceau unveiled a memorial plaque during an official ceremony.
"It's important not to forget the sacrifice of this aviator, so many years afterward," Ponceau said, thanking the French citizens "for your deep appreciation of Canada."
Several eyewitnesses to F/O Cashion's crash shared their recollections.
"Everything happened so quickly, recalled Jacqueline Gosselin. "The odd sound of the shot-up aircraft, the sight of the plane struggling to stay aloft, and a body that fell.
"Someone close to me said 'It's a bird.' I was convinced that it was the pilot."
Mrs. Gosselin later met F/O Cashion's mother, who visited Charleval after the war and was warmly hosted by its citizens, who took her into their homes, even though she couldn't speak French.
"She decided to let her son remain in French soil because he gave his life for the country. I was only 15 at the time, but will never forget this tragic event which so abruptly plunged our quiet little village into the reality of war."
"It was truly a tragedy," said Pierre Blé, who was 12 when he saw F/O Cashion eject from his aircraft on July 25, 1944.
"He was only 23. His parachute caught fire and he crashed."
Blé was being cared for by his grandmother because his parents had been deported to Germany.
Born late in 1940, Jeanine Bary was too young to witness the crash, but she recalled that her life was constantly in peril during the war.
"I was a hidden Jewish child," she explained. "During the war, it was quite difficult. My father was arrested, deported and killed in Auschwitz, but I was spared because I was less than two years old."
"During my time in Normandy, I was very impressed with how the people of these small communities still embrace the sacrifices made by Canadian and Allied soldiers during the Second World War," said Matthew McHugh, who worked nearby at the Juno Beach Centre this summer.
Municipal official Sanda Men Makoth, who spent months organizing the event, confirmed that F/O Cashion's sacrifice has earned enduring affection there for Canada.

"C'est une histoire d'amour, finalement," she smiled.
CHARLEVAL, FRANCE—Canadian diplomat Sylvain Ponceau (centre left) and Charleval mayor Denis Lebaillif (centre right) unveil a plaque honouring RCAF World War II pilot F/O Allan Cashion. The Notre Dame de Grâce resident died trying to help liberate the town. (Left) Jacques Poletti. vice-chairman of the departmentalcouncil (right in short sleeves) veterans association president Guy Pesier and (right) municipal cultural attaché Dominique Chemin.