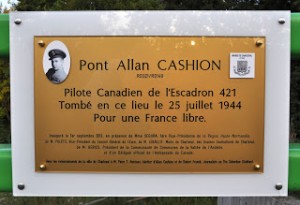 Made commemoration of WWII RCAF pilot possible
www.thesuburban.com
CHARLEVAL, FRANCE—
Engraved at the bottom of the plaque depicted in today's report from France are thanks to reporter Robert Frank and
The Suburban
.
Though in the photo the words are too small to read, they praise the pivotal role that the newspaper played in enabling this Normandy town to express its gratitude for a Notre Dame de Grâce resident who gave his life to help free them from Nazi occupation. Here is how it came about:
According to French law, before Charleval could name the bridge after Flying Officer Allan Cashion, municipal official Sanda Men Makoth had to obtain permission from a living relative. Unfortunately, F/O Cashion's parents had no other children, and her efforts to find other relatives bore no fruit.
The breakthrough came after she approached Matthew McHugh, who worked this summer at the Juno Beach Centre—a museum inaugurated in 2003 to commemorate the spot where Canadians landed in Normandy on D-Day.
McHugh, in turn, contacted Montreal air force veteran Don Baird of the
Canadian Aviation Historical Society
who, in turn, reached out to
The Suburban
Editor Beryl Wajsman.
Wajsman assigned the story to Frank, who used his investigative reporting experience to dig out factual information about Cashion, which he published in a report, May 23.
When Notre Dame de Grâce resident Gloria Parkinson—who knew F/O Cashion's parents—read that report, she phoned The Suburban and provided information about his mother's ancestor, bakery magnate Dent Harrison.
Frank quickly tracked down and called Harrison's great-grandson Peter T. Harrison, who agreed to give officials in France permission to name the bridge after the 23-year-old World War II RCAF pilot.
Another acquaintance of the Cashions came forward after the first article appeared. A former Montrealer living in Texas read The Suburban report related to Frank the tragic