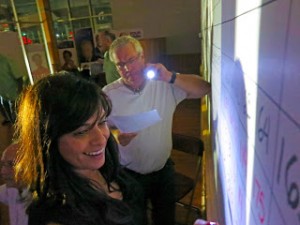 Racist grafitti mars election day
By Robert Frank
www.thesuburban.com
Liberal Yolande James polled more than three-and-a-half times the number of votes of her nearest rival in Nelligan riding, earning a fourth consecutive mandate with more than double the number of votes garnered by all her opponents combined.
A Hydro Quebec power failure plunged the riding into darkness just before the close of polls, delaying ballot counting for nearly an hour.
However, at 8:58 p.m., a Liberal party worker at James' Nelligan riding party headquarters in Pierrefonds shouted "We're elected, guys!"
As The Suburban went to press, James had garnered 10,755 votes and 67 per cent of the vote with 75 out of 197 polls reporting.
CAQ hopeful Philippe Boileau trailed at 3,045 and PQ's Marcos Archambault earned the confidence of only 1,526 voters.

Liberal party faithful continued to watch a generator-powered television as
the results poured in.
James sat down to watch The Suburban editor Beryl Wajsman parry Péquiste notstrums on CTV News, then exclaimed when a sovereignist commentator suggested that Parti québécois restrictions on cultural communities would only apply to new Canadians.
"You mean it's ok [to discriminate against] immigrants?" she exclaimed.

"I'll be ready," she asserted. "If she wants to have a referendum, she's going to have the representative for Nelligan in her way—and I will be representing the voice of the people here."
Election day was marred by racist graffiti sprayed on the West Island BlackCommunity Association headquarters in Roxboro, together with a note hanging on the mailbox saying "N—– go home."
Yolande James' official agent Urbain Prégent (right) holds a flashlight so Liberal campaign worker Eftyhia Volakakis can keep tally of votes on election night, after a Hydro Quebec power failure plunged parts of Nelligan riding into darkness and delayed the ballot count for nearly an hour.