By Robert Frank
Although the Quebec government backed off on its demands that schools operating under 50 per cent capacity be closed immediately, the pressure to rationalize by next year remains.
Only a few more weeks remain before the Lester B. Pearson School Board's October deadline for proposals on how best to streamline its schools.
"We will hold town hall meetings in November to analyze the briefs in greater detail," said LBPSB chair Stein Day.
She added that LBPSB commissioners will decide the direction they will take at their Dec. 14 meeting.
"It could entail closures, repurposing or new programs," she told reporters. She added that a summer spent grappling with austerity pressures has precluded any discussion so far.
"We haven't even had a closed-door conversation with administrators, we've been so focused on budgets," she declared. "Last time we embarked on major school change, we sent them back to the drawing board four times."
With English enrolment continuing to plummet, fourteen LBPSB schools were already hovering near or below the 50 per cent capacity mark at the end of the last school year. They are:
Elementary schools: Christmas Park 54%, Sherwood Forest 51%, Springdale 48%, Thorndale 44%, Orchard 57%, Riverview 59%, Verdun 27%.
High schools: Beurling Academy 53%, Horizon 50%, Lakeside 38%, LaSalle 58%, Pierrefonds Comprehensive 54%, Riverdale 45%, Westwood Junior 51%.
In addition to its enrolment and budget woes, LBPSB faces the prospect of a strike vote by its teachers at the end of this month.
Once LBPSB commissioners decide whether and where to close schools, parents will have to choose where to send their children for the 2016-2017 school year.
"If council decides in December, it will give parents two months do decide which school they want to attend," assistant director Carol Heffernan told commissioners who attended LBPSB's Sept. 21 executive committee meeting.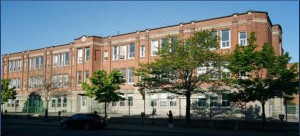 Verdun Elementary School operated at 27% of its capacity last year.