With files from Beryl Wajsman and Kevin Woodhouse
Garbage truck operators plying Beaconsfield streets have already been capturing images of local trash.
The revelation contradicts what citizens were told during the city's open house last week to highlight the new smartbins that all residents must opt for by Sept. 25.
Truck operators there repeatedly told the public that their truck was incapable of storing and relaying photos.
Surprised by contrary statements from residents and staff from The Suburban, Councilor Wade Staddon checked with city officials the following morning.
Staddon told The Suburban that he learned that the city has, for more than a year, been able to capture imagery of residents' trash since it began a pilot project to test the smartbins at some 300 Beaconsfield households.
"That capability was there with that test truck," he explained in an interview.
Matrec, the waste removal company that demonstrated its equipment at last week's open house in Beaconsfield, confirmed Staddon's statement.
"The truck is equipped with video monitors that are able to take screen captures (like computer screenshots) when the driver spots anomalies such as broken bags, trash deposited outside the bin and trash that's prohibited by rules and regulations," Matrec executive François Boivin confirmed in an email following conversations with The Suburban's editor.
Many citizens were concerned after Mayor Georges Bourelle's told reporters following last month's council meeting, that truck operators would transmit the trashcam imagery to city officials for subsequent enforcement, and could be stored indefinitely.
"Preventative surveillance can be seen as an invasion of one's privacy," resident Sheila Desrochers told The Suburban. "It's Big Brother."
Desrochers observed that the city claims its web site that it can photograph residents' trash because they have "abandoned it" but also wants to hold them responsible, if it contains something objectionable.
"You can't have it both ways," she said. "People are taken aback and feel invaded. It's an invasion of privacy to surveil the public across the board without a specific reason. That would risk their right to be left alone."
Businesses worried
Dierdre Manitts told The Suburban that she is concerned how the city's punitive trash policy will affect her Beaurepaire bakery.
"I'm concerned that people will be using our bins for their garbage," she said. "We fill our bins to the rim every single week. I know that I'm not the only commercial establishment that's worried about it."
"As a resident, although Big Brother is watching, it's the same problem," Manitts added. "I'm concerned people could put stuff in my garbage and the city will take a picture of it. It's such an invasion of privacy, it's unbelievable."
Another resident told The Suburban that the city's green waste is not being collected.
"I put out my green waste twice during the summer, and it was never picked up," said Wendy Longlade. "The same happened when I tried again Aug. 31. Two weeks later, I phoned the city, and finally, the following week, it was picked up."
Longlade noted that the special, biodegradable bags that must be used for green waste are unsuited for these long delays.
"They decompose while waiting on the side of the road to be picked up," she observed.
Councilor Pierre Demers was dismayed that Mayor Bourelle subsequently acknowledged the trashcams in a news release, Friday, and stated that "the elected members of council have taken measures to ensure compliance with the right to privacy in accordance with both the Canadian Charter of Rights and Freedoms and the Civil Code of Quebec."
For anyone wishing to be informed of privacy compliance standards, they are set out in an op-ed by Beryl Wajsman in the The Suburban entitled The right to be let alone that dealt specifically with the Beaconsfield situation.
"I fully support the waste management initiative," Demers emphasized, "I have some concerns, if there is going to be a camera inside the truck itself. At the open house it was clear that this was not going to be the case. It would have been nice had members of council been consulted prior to issuing this news release."
He added that Bourelle has since promised henceforth not to speak on councilors' behalf without consulting them beforehand.
Bourelle, who usually readily responds to interview requests, was unavailable as his wife is undergoing surgery.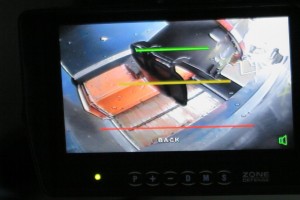 Beaconsfield is watching you
(Photo © Robert Frank)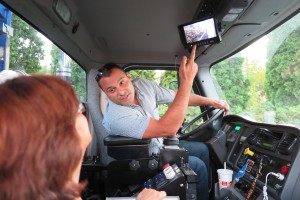 Operator shows Beaconsfield resident how trashcans operate.
(Photo © Robert Frank)