"Poses health hazard to youngsters"
Laval Police stumbled onto a new phenomenon when they arrested two youths for drug possession.
"The officers were on patrol in Chomedey when they spotted two 19-year-olds smoking marijuana in a parking lot," Sgt. Frédéric Jean told The Suburban. "The car that they were in was quite untidy, so the first question that they asked the pair was: 'Do you have any other drugs in the car?'"
"One of the suspects handed over a bag of gummy bears," he said in an interview. "At first the officer thought that it was a joke or because the suspect was drugged, but subsequent analysis revealed that they did in fact have THC in them."
THC is tetrahydrocannabinol, the psychoactive ingredient in cannabis. The accidental discovery set off alarm bells, because it appears to have until now flown under the radar of Canadian drug investigators and is designed to appeal to young children. "We have found synthetic drugs like methamphetamine, and ecstasy that has been manufactured in tablet form to look like candy, but this is the first time that it is actually candy," Sgt. Jean reported.
"If a nine-year-old were to eat a cannabis-laced gummy bear, he would get sick from the THC," he warned. "The police service is quite concerned that drugs are available in that form."
"When you make it in the shape of a teddy bear, it looks quite innocuous," he added. "The patrol officers seized gummy bears in two shades of yellow, red, and two shades of green, which indicates that at least five batches were made. It's a sophisticated way to hide drug use."
Laval Police have sent the seized gummy bears for more detailed laboratory analysis.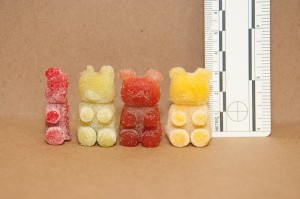 Don't be fooled by their innocent look: This THC-spiked lineup of gummy bear candy could seriously harm small children.