Laval loves suds, judging by the turnout at the city's first-ever summer beerfest, held in St. Vincent du Paul, July 10-12. Some 30 microbreweries showed off their wares there at Centre de la nature during the weekend.
"It was very much to my liking," Laval executive committee vice-chairman David de Cotis told The Suburban. "For something that was done for the first time in the city of Laval, to draw more than 14,000 people represents an achievement not merely for the organizers but also for Laval."
The beerfest was one of a number of activities that the city organized to mark the 50th anniversary of the 1965 municipal merger that forged Laval out of 14 separate cities on Île Jésus.
"The festival helped to make Laval a city we can be proud of," he told The Suburban in an interview. "The event drew people not just from Laval but also from Montreal and the North Shore. It was inspiring for us as politicians but also for Laval citizens to see what we an accomplish through this kind of event."
Next year's event already brewing
The beerfest's unmitigated success means that Laval beer lovers can expect a reprise in 2016.
"Because it was the first year [that we held this event], we didn't know what we would be up against," St. Vincent de Paul Councilor Paolo Galati told The Suburban. "People enjoyed it so much and city workers helped tremendously and were so excited about the event that they are already suggesting different ways to approach the whole site to make it easier next year for concessions to bring in stock without intruding upon the festival itself."
Galati added that the event will be held in the same St. Vincent de Paul location next year.
"It will be at the same place, but pushed forward a little," he said.
"Overall, we have all the right ingredients to make this event even more successful next year," de Cotis enthused.
"The city sponsored the event with a [$15,000] grant and [Councilor Galati] worked closely with the organizers," he concluded. "Hopefully in 2016, the city can provide even more in terms of financial contributions and services to make this event even better."
Organizers posted a helpful English web page that described the event at: festivaldesbieresdelaval.com/en/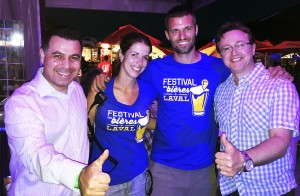 (Left to right) Executive committee vice-chairman David de Cotis with Laval beerfest organizers Marilène Barale and Guillaume Ouimet and St. Vincent de Paul Councilor Paolo Galati declared weekend extravaganza an unmitigated success.
Note: The number of visitors and the amount of the city sponsorship was amended subsequent to publication, based on new information provided by organizer Marilène Barale.