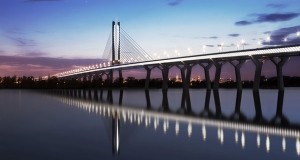 Canam to construct components for new Champlain Bridge
By Robert Frank
www.thesuburban.com
Laval will reap the benefits of the federal government commitment to replace the Champlain bridge by 2018.
The St. Lawrence Group consortium has tapped Canam Bridges to manufacture steel beams that will make up the superstructure of the new bridge in Montreal to link with the South Shore.
While senior vice-president Robin Lapointe declined to specify how much money Canam will earn from this commitment, he acknowledged that the amounts that it will entail are very significant.
"It's a huge contract," he told The Suburban.
"There are a lot of secondary girders and braces in a bridge that spans more than 3.4 km," Lapointe said in a telephone interview. "Our plant in Laval has the equipment and the expertise to do that kind of work."
The company already employs some 80 people at the plant that it has operated here since 2006, when it bought Goodco and Ztech and merged them into a single company. It also operates a bridge building plant in Quebec City.
"The extra work that this project will bring means that we will have to hire another 25-30 employees in Laval for a two-year period," Lapointe predicted. "The work will start early next year." More money on horizon
More money might be coming Canam's way from the Champlain project.
It's plant, located on Marshall Street in Laval's industrial district, specializes in making structural bearings and expansion joints.
"They weren't part of this package, but we are working on a proposal to provide bearings and expansion joints in the near future," Lapointe concluded, hopeful that Canam will also be the successful bidder on that portion of the project.
Laval executive committee vice-chairman David De Cotis told The Suburban that he welcomed the news of the coming boost to the city's already-strong employment figures.
"Laval has one of the lowest unemployment rates in the province," he said in an interview. "This is another example of how our employment growth continues to be driven by private sector vendors."