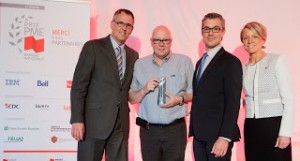 By Robert Frank
www.thesuburban.com
Filter manufacturer Séfor earned silver laurels for the quality of its entrepreneurship, in this year's National Bank of Canada Small- and Medium-Size Business Awards.
Séfor was the only Laval firm the judges singled out in recognition of its entrepreneurial excellence from among 100,000 eligible firms in Quebec.
"[The competition] let us take the measure of the exceptional qualities of the candidates," National Bank senior vice-president David Pinsonneault said in a statement.
Séfor, which is one of the biggest car and industrial filter-makers in Canada, won the prize in the $5 million-and-under revenue category.
The company is also the biggest air-filter recycler in Canada. It's locally conceived and built FilterSafe system is used in many far-flung places, including the Saguenay region, Alberta, Morocco and Portugal.
In recent years, it has moved into the lubricant distribution business, as well as other automotive products.
This is the 21st edition of National Bank of Canada Small- and Medium-Size Business Awards. Other sponsors of the award include IBM Canada, Bell Helicopter, Export Development Canada, Lavery, TÉLUQ University, La Presse+, La Terre de chez nous, École d'Entrepreneurship de Beauce, Institut d'Entrepreneuriat Banque Nationale, HEC Montréal and the Université of Sherbrooke's Laurent Beaudoin Centre.
Séfor president Claude Chenier (second from left) lauded by National Bank executives (left to right) Alain Dalpé, Hugues Marchesseault and Martine Coulombe.