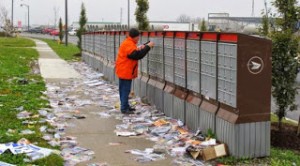 By Robert Frank
www.thesuburban.com
Mayor Marc Demers is mad as hell and he's not going to take it any more. He's tired of Canada Post's unwillingness to cooperate with the city and work out a way to introduce group mailboxes that responds to Laval residents' needs.
Last week he and the mayors of Montreal and Longueuil announced that enough is enough. They intend to intervene in a lawsuit aimed at stopping cutbacks to home mail delivery.
The Montreal region's other suburbs are also considering asking the court for intervenor status.
Tension has been brewing between the cities and the federal Crown corporation for months.
In March, The Suburban reported Laval's dismay with Canada Post's deaf ear and strongarm tactics. Executive committee vice-chairman David de Cotis told the newspaper that Canada Post wouldn't budge on group mailbox plans even over "whether to move them 20 ft north or south. We're not getting cooperation from Canada Post."
De Cotis said that Laval's growing senior population as well as the handicapped will be hardest hit by the new measures. The city also wanted to limit the "visual pollution of these mailboxes," he added.
"Laval has expressed a great willingness to work with Canada Post," Mayor Demers read from a prepared statement during a news conference. "Unfortunately, the effort has been a one-way street."
"Our constituents are helpless against Canada Post's cavalier approach and the city remains powerless to deal with its improper actions. We have no choice but to take part in this lawsuit," he said.
Demers wants the group mailbox plans put on hold until after the federal election, which is expected to be held on Oct. 19.
Some 70,000 Laval residences will be affected by mailbox collectivization.
Laval wants to limit the "visual pollution of group mailboxes," said executive committee vice-chair David de Cotis.