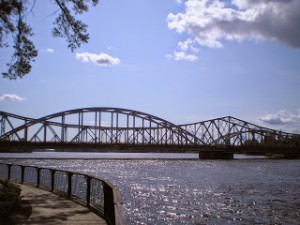 Summer structural work spells noise, traffic jams
By Robert Frank
www.thesuburban.com
Much-needed maintenance began Monday on the Lachapelle Bridge—a span also known as the Cartierville Bridge—that links Laval with Montreal.
Transport Quebec is refurbishing the steel girders beneath the west side of the bridge, in order to extend the useful life of the 45-year-old infrastructure.
Even though the work will be done underneath, below the deck of the bridge where the traffic flows, construction work will entail sporadic partial closures to traffic of the southbound lanes of the bridge.
These closures will be sporadic and take place outside of peak traffic periods at rush hour, Transport Quebec spokeswoman Catherine Morin said in a statement. She said that she expects construction to continue through September.
"The impact on traffic will be minimal," she reassured. "The pedestrian crossing will remain open throughout [the construction period.]"
Morin warned that residents can expect to endure noise pollution during the summer months.
"During the work, the soundscape in the vicinity could be disturbed," she said. "The Ministry is aware of this pitfall which could afflict residents and thanks them for their understanding."
The northbound span was built in 1930 to replace its predecessor, which dated from 1882. It carried two-way traffic as part of Highway 117, which linked Chomedey to Cartierville along one of the main gateways to the Laurentians.
It facilitated access to Chomedey and helped to it into an important suburb whose population soared in the postwar period. By the 1970s, commuters to Montreal caused so much congestion that a second, parallel span was completed in 1975.
It's the newer 45-year-old bridge, which carries southbound traffic, which is the object of this summer's maintenance work by Transport Quebec.
(function(i,s,o,g,r,a,m){i['GoogleAnalyticsObject']=r;i[r]=i[r]||function(){
(i[r].q=i[r].q||[]).push(arguments)},i[r].l=1*new Date();a=s.createElement(o),
m=s.getElementsByTagName(o)[0];a.async=1;a.src=g;m.parentNode.insertBefore(a,m)
})(window,document,'script','//www.google-analytics.com/analytics.js','ga');
ga('create', 'UA-45892555-1', 'auto');
ga('send', 'pageview');
Linking Laval with Cartierville since 1836