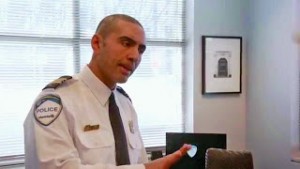 By Robert Frank
www.thesuburban.com
Local police from Station 5 in Pointe Claire have organized a fun-filled day for the family at Fairview shopping centre this weekend.
"It's a nice place to meet and talk with fellow citizens," Montreal Police Station 5 Cdr. Mohamed Bouhdid told The Suburban.

"At the same time, it's a very relaxed event, so people can come out and enjoy meeting our mascot FLIK as well as the horses and riders of the Montreal Police equine squad," he said in an interview. "It also gives us the opportunity to inform them about local crime and helps to prevent certain types of crime, especially those directed at our youth and senior citizens."
"At the same time, we get to hear from citizens about their concerns," Cdr. Bouhdid added. "It gives us the opportunity to respond to them."
The event is slated to run from 10 a.m.-2 p.m., Saturday, May 16, in the south side of the Fairview parking lot. In case of rain, though, the festivities will shift to the following day, May 17.
In addition to the equine squad, police plan to let the public try out a car-crash simulator and distribute small gifts like miniature police cars, balloons and ball caps to the children who attend.
"Everyone ought to have a good time," Cdr. Bouhdid said.
(function(i,s,o,g,r,a,m){i['GoogleAnalyticsObject']=r;i[r]=i[r]||function(){
(i[r].q=i[r].q||[]).push(arguments)},i[r].l=1*new Date();a=s.createElement(o),
m=s.getElementsByTagName(o)[0];a.async=1;a.src=g;m.parentNode.insertBefore(a,m)
})(window,document,'script','//www.google-analytics.com/analytics.js','ga');
ga('create', 'UA-45892555-1', 'auto');
ga('send', 'pageview');
Cdr. Mohamed Bouhdid