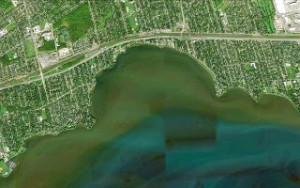 Oil slick in Lac St. Louis
By Robert Frank
www.thesuburban.com
Pointe Claire has turned over to Montreal authorities its investigation of an April 13 oil slick on Lac St. Louis, Mayor Morris Trudeau told citizens during its city council meeting, May 5.
"As soon as we were informed of the situation, our teams were sent to the site to remove the substance by pumping and taking samples," Trudeau read aloud from a prepared statement prior to question period.
Emergency response crews deployed floating oil booms and pump trucks to remove as much oil as possible, after citizens reported that they smelled an unusual odor emanating from the shore of Valois Bay.
"Test results have confirmed that the substance was a hydrocarbon, either diesel or heating oil," he reported. "The investigation is now in the hands of Montreal's Service de contrôle de la régie industriel to determine the source of the substance."
Trudeau reassured West Island residents that they have nothing to worry about in terms of the quality of the drinking water supplied by the treatment plant in Pointe Claire, which supplies fresh water to a number of West Island communities.
The intake for Pointe Claire's water works is west of Valois Bay, upstream from the spill site. That means that the powerful flow of the St. Lawrence River pushed the slick eastward, out of harm's way.
Officials said that not enough oil spilled to pose a problem for drinking water quality at Montreal's water treatment plant downstream in Lachine.
"Tests are conducted by City of Montreal in order to ensure that [drinking water is] at all times suitable for consumption and the situation has returned to normal," Trudeau said. "We are committed to protecting our environment and you can rest assured that we will remain vigilant."
(function(i,s,o,g,r,a,m){i['GoogleAnalyticsObject']=r;i[r]=i[r]||function(){
(i[r].q=i[r].q||[]).push(arguments)},i[r].l=1*new Date();a=s.createElement(o),
m=s.getElementsByTagName(o)[0];a.async=1;a.src=g;m.parentNode.insertBefore(a,m)
})(window,document,'script','//www.google-analytics.com/analytics.js','ga');
ga('create', 'UA-45892555-1', 'auto');
ga('send', 'pageview');
Valois Bay