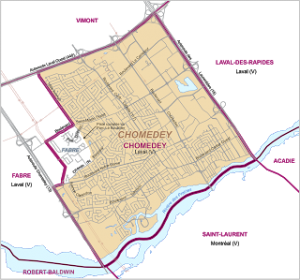 Reviews redrawn ridings, reducing Chomedey
By Robert Frank
www.newscoverage.org
The public is invited to comment on redrawing Quebec's political map during an open hearing in Laval on Wednesday.
Despite its rapidly growing population, Laval won't gain a single seat in the National Assembly under the proposal that the Quebec Electoral Commision has tabled, due to Quebec's longstanding practise of stacking the legislature with representatives of rural ridings that have only 60 per cent the population of their city counterparts.
Urban ridings can contain 60,484 voters, while rural ridings need just 36,290 eligible souls to get the same representation in the provincial legislature.
Montreal, which fares even worse under Quebec's skewed political map, stands to lose a riding, as will the Mauricie region, while two will be added in the Laurentians and Lanaudière.
The meeting, which will be chaired Lucie Fiset, will start at 7 p.m. at the Kalýsta reception centre, located at 3055 Cartier West. She will be accompanied by commissioners Serge Courville and Bruno Jean.
Anyone who wants to participate must register in advance to do so. Instructions on how to register are available in English at: lacarte.electionsquebec.qc.ca/en/registration_and_filing.php
Votes must carry equivalent weight

Although the Quebec Electoral Commission tinkers with riding boundaries after every other general election, it has failed to respect a 1991 Supreme Court of Canada ruled that made voting power parity a top priority.
Tonight's hearing in Laval is one of ten that the Quebec Electoral Commission has slated throughout the province.
"Nearly 100 people have attended the eight hearings so far," Elections Quebec spokeswoman Sonia Fontaine told The Suburban.
She said that some of the discussion so far has centered around revisions to local riding maps as well as on the urban-rural divide.
"It's a topic that affects everyone," Fontaine said in a telephone interview. "Everyone has their own outlook. Some like things the way that they are; others propose alternatives."
Two more remain hearings remain after tonight's Laval audience: In Gatineau, May 14; and in Shawinigan, May 21.
(function(i,s,o,g,r,a,m){i['GoogleAnalyticsObject']=r;i[r]=i[r]||function(){
(i[r].q=i[r].q||[]).push(arguments)},i[r].l=1*new Date();a=s.createElement(o),
m=s.getElementsByTagName(o)[0];a.async=1;a.src=g;m.parentNode.insertBefore(a,m)
})(window,document,'script','//www.google-analytics.com/analytics.js','ga');
ga('create', 'UA-45892555-1', 'auto');
ga('send', 'pageview');
Taking a piece out of Chomedey