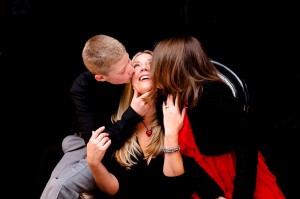 "I have learned from my children to look at people and not judge them."
By Robert Frank
www.thesuburban.com
Sir Wilfrid Laurier School Board chair Jennifer Maccarone is the mother of two autistic children Samuel, 14, and Bianca, 12. In an interview with The Suburban, she talked publicly for the first time about how their upbringing has transformed them—and her—for the better.
"In the beginning I wanted to change it," she admitted. "I was jealous of parents who wished their kids would be quiet, when I just wanted my kids to put two words together."
The prognosis was very bad when a phalanx of specialists diagnosed Samuel at age 3.
"They told us that there was absolutely no hope. We were told to consider looking for placement [in an institution] and that it was unlikely he would get out of diapers," Maccarone recalled. "It was the most difficult thing that I have ever had to live through in my whole life. Samuel had to have 40 hours of therapy a week. Then, we had to do it all over again [two years later], when Bianca was diagnosed."
Today, Maccarone wants to let other parents living through the same thing today that there is hope.
"You can survive this," she said. "Don't give up. You're going to be fine and your children will be ok."
Today, both Samuel and Bianca go to school unaccompanied. Paradoxically, their remarkable progress makes the work that they have to do to achieve it less conspicuous.
"I look at my kids and I know how meaningful it is for them to be able to contribute," Maccarone explained, "because they have to work ten times harder than anyone else."
"Samuel might come home from a challenging day at school where the academics were really tough for him," she said. "He's happy to sit down at the table and do three hours of work without complaint until he works it out, because he's so eager to do a good job. There are a lot of challenges and, in Quebec, there is the added challenge because of growing up bilingual or trilingual."

Observe before judging
They have to exert more self-discipline than most children or adults ever will, to overcome hurdles that we take for granted.
"Sometimes just getting dressed for school is tough," Maccarone acknowledged. "They're way tougher than us: They have to remember to sit still, maintain eye contact and decode the language before they can begin to start listening to the teacher."
Her children are also very good at coping when, inevitably, other kids are cruel.
"Samuel and Bianca will go back to school the next day and have unconditionally forgiven them, still want to be their friends and move on," Maccarone said. "I have learned from them to look at people and not judge them."
They've taught me to persevere and help others," she added. "They put me on the path toward seeing what I could do for education."
"It's important for parents to understand that you are the best advocate for your children," Maccarone advised. "They will flourish if you are involved. Had we not gone to every meeting, sought out as many professionals as we could and participated at school, we would not be where we are today."
"It makes a big difference," she concluded. "It really does. If I could go back and change it, I wouldn't."
"We're all unique," said SWLSB chair Jennifer Maccarone, seen here with her children Samuel and Bianca. "So are people who have autism. They can contribute, be employed and learn in a regular classroom. "
(function(i,s,o,g,r,a,m){i['GoogleAnalyticsObject']=r;i[r]=i[r]||function(){
(i[r].q=i[r].q||[]).push(arguments)},i[r].l=1*new Date();a=s.createElement(o),
m=s.getElementsByTagName(o)[0];a.async=1;a.src=g;m.parentNode.insertBefore(a,m)
})(window,document,'script','//www.google-analytics.com/analytics.js','ga');
ga('create', 'UA-45892555-1', 'auto');
ga('send', 'pageview');