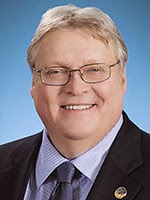 By Robert Frank
www.thesuburban.com
Does health care come with a ball-and-chain?
Quebec Health Minister Gaétan Barrette breezed into Laval last week with good news.
Seated beside Family Minister Francine Charbonneau—the minister responsible for Laval at the Quebec cabinet table—Barrette proceeded to announce to reporters that the province plans to pay for 18 more much-needed palliative care beds at the Rose de Lima centre in northern Laval.
He also said that he intends to equip the Cité de la santé superhospital with two state-of-the-art diagnostic machines: a magnetic resonance imager and a positron emission scanner.
Is price patient freedom?
The investments "show that our government is eager to spread access to [health care] services evenly throughout the land" stated Ste. Rose MNA Jean Habel, reviving concern about government plans to force patients to get medical care locally.
In January 2014, The Suburban broke the news that the then Parti Québécois government was pushing to regionalize the province's health care systems.
That hits Laval particularly hard, because of the high proportion of residents who opt to cross the bridge to seek treatment in Montreal.
"An announcement like today's shows that beyond any doubt we're keen to refocus our health care system on Quebecers' needs," Barrette stated, "particularly where the need is spiking for a variety of reasons, including demographics."
The law permits Quebecers to seek treatment anywhere they like but, by allocating the money to pay for those services, the government can exert a chokehold on where it is possible to do so.
Vimont MNA Jean Rousselle, who also attended the April 9 news conference, told The Suburban last year that he supported free choice.
Under the Liberal government, he said, "no one can be refused service in the hospital of their choice and patients can make their own choice."
Rousselle added that that while he lives in Laval, he himself has for many years has been cared for by an anglophone general practitioner who works out of the city of Montreal.
"When you develop a relationship with your doctor or your hospital who understands your case history and your needs, it would be foolish to make people lose that privilege," he said at the time.
Restricting access to residents in the 450 area code means that the superhospital would also see an influx of English speaking patients, creating more demand for health care service in English, which they are entitled to by law.
Rousselle promised that Cité de la santé would continue to improve its services to English-speakers.
"Patients deserve to be treated in the language of their choice since we live in a bilingual country," he said. "We can achieve more English service at the hospital."
(function(i,s,o,g,r,a,m){i['GoogleAnalyticsObject']=r;i[r]=i[r]||function(){
(i[r].q=i[r].q||[]).push(arguments)},i[r].l=1*new Date();a=s.createElement(o),
m=s.getElementsByTagName(o)[0];a.async=1;a.src=g;m.parentNode.insertBefore(a,m)
})(window,document,'script','//www.google-analytics.com/analytics.js','ga');
ga('create', 'UA-45892555-1', 'auto');
ga('send', 'pageview');
Quebec Health Minister Dr. Gaétan Barrette