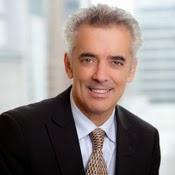 Expo centre mooted
By Robert Frank
www.thesuburban.com
Most of the employees who work for the city's business promotion agency will soon become civil servants, executive committee vice-chairman David de Cotis told The Suburban.
Laval originally planned to reorganize Laval Technopole into a new economic development directorate at city hall and absorb about half the parapublic agency's staff. Then, Quebec City tabled a surprise new law to eliminate the province's regional governments and development agencies.
"That put the remaining Technopole employees at risk," de Cotis explained in an interview. "Mayor Marc Demers took it upon himself to guarantee everyone a job as much as possible. We decided that all of Laval Technopole would, as much as possible, be integrated within city hall."
In some ways, the change simplified the shift.
"The employees will remain where they are in the Laval Technopole office," he said, "but they will all be employees of the city of Laval."
Showtime
De Cotis also plans to give up his second hat as Technopole's interim CEO.
"It's taking up 20 per cent of my time," he noted.
The city has lured Marc Tremblay from his job running business development for the Just for Laughs comedy festival to head the city's new economic development directorate.
It's a return to the public sector for Tremblay, who worked in business development for Montreal until a decade ago, when he jumped to private industry to run the La Ronde amusement park for American recreation giant Six Flags for three years, followed by a four-year stint running the Montreal convention centre Palais des congrès.
Tremblay will likely be hitting the ground running next week, as his new boss already has ideas for him to consider when on his first day on the job, April 23.
"He will bring some clout and credibility to Laval's new economic development establishment," de Cotis said. "If anyone can really sit down and explore the potential for an exposition centre in Laval, it would be him."
"We would love something like this," de Cotis enthused. "Together with Place Bell, the Grande bibliothèque, the aquatic centre, a Palais d'exposition de Laval is what Laval needs in the next decade, as it moves toward becoming the second most-populous city in Quebec."
"In addition to his duties heading the city's new economic development directorate, Marc Tremblay will replace me as interim CEO of Technopole," he added. "I will remain as chairman of the board. The CEO position is stipulated in the city's bylaws, but once Technopole is dissolved, it will cease to exist."
Though it will soon officially disappear, he concluded, like the Cheshire cat, "the brand name Laval Technopole will remain."
Just for Laughs executive Marc Tremblay tapped to lead new Laval economic development directorate.
(function(i,s,o,g,r,a,m){i['GoogleAnalyticsObject']=r;i[r]=i[r]||function(){
(i[r].q=i[r].q||[]).push(arguments)},i[r].l=1*new Date();a=s.createElement(o),
m=s.getElementsByTagName(o)[0];a.async=1;a.src=g;m.parentNode.insertBefore(a,m)
})(window,document,'script','//www.google-analytics.com/analytics.js','ga');
ga('create', 'UA-45892555-1', 'auto');
ga('send', 'pageview');