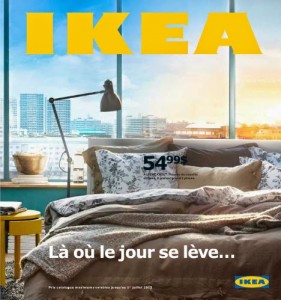 Av Joel Goldenberg
www.thesuburban.com
Detta är den senaste i en serie artiklar tittar på butiker och företag och deras språkpolitik i områden med majoritets- och betydande engelskspråkiga populationer, vilket framgår av Harold Staviss, en advokat i staden Hampstead, och kommunalråd Ruth Kovac av staden Côte St. Luc.
IKEA, vars St. Laurent butiken kan vara den mest tvåspråkiga i Quebec, har gjort ett slutgiltigt beslut att hålla utskick ut flygblad endast på franska till Quebec kunder, har The Suburban tidningen lärt.
Företagets taleskvinna Madeleine Löwenborg-Frick, med företags PR för IKEA Kanada, informerade förra året Hampstead advokat Harold Staviss och Côte St Luc fullmäktigeledamot Ruth Kovac att IKEA vägde en förändring av dess politik för att posta ut fransk endast flygblad i Quebec. Staviss och Kovac hade invänt mot bristen på engelska på postas flygblad.
Under tiden hade fler fransk bara flygblad sänts ut, och Staviss frågade IKEA flera gånger varför detta var fallet.
Löwenborg-Frick svarade Staviss förra veckan.
"Även om jag uppskattar ditt fortsatta passion för att kommunicera din bestörtning över att ta emot franska flygblad från IKEA, har beslut fattats om att vi inte kommer att producera engelska flygblad för distribution i Quebec hem", skrev hon i ett e-postmeddelande kopieras till The Suburban. "Som sagt tidigare, finns både i våra Quebec butiker samt online-den engelska versionen. Jag beklagar att du inte hittar denna lösning är tillfredsställande. Vänligen vet att efter att ha tittat in i våra alternativ, är slutgiltigt detta beslut. "
Staviss var inte nöjd.
"Vad synd, behandla icke-francophones som andra klassens medborgare", sade han.

Ej tillgängligt på engelska
(function(i,s,o,g,r,a,m){i['GoogleAnalyticsObject']=r;i[r]=i[r]||function(){
(i[r].q=i[r].q||[]).push(arguments)},i[r].l=1*new Date();a=s.createElement(o),
m=s.getElementsByTagName(o)[0];a.async=1;a.src=g;m.parentNode.insertBefore(a,m)
})(window,document,'script','//www.google-analytics.com/analytics.js','ga');
ga('create', 'UA-45892555-1', 'auto');
ga('send', 'pageview');