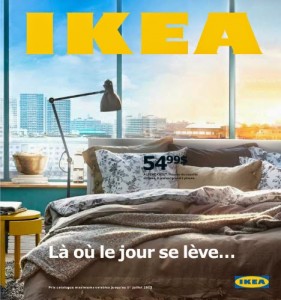 By Joel Goldenberg
www.thesuburban.com
This is the latest in a series of articles looking at stores and companies and their language policies in areas with majority and significant anglophone populations, as documented by Hampstead's Harold Staviss, a lawyer, and Côte St. Luc Councillor Ruth Kovac.
IKEA, whose St. Laurent store may be the most bilingual in Quebec, has made a final decision to keep mailing out flyers only in French to Quebec customers, The Suburban has learned.
The company's Madeleine Löwenborg-Frick, with corporate public relations for IKEA Canada, last year informed Hampstead lawyer Harold Staviss and Côte St. Luc Councillor Ruth Kovac that IKEA was considering a change to its policy of mailing out French-only flyers in Quebec. Staviss and Kovac had objected to the lack of English on the mailed flyers.
In the interim, more French-only flyers had been sent out, and Staviss asked IKEA several times why this was the case.
Löwenborg-Frick replied to Staviss last week.
"While I appreciate your continued passion for communicating your dismay at receiving French flyers from IKEA, the decision has been made that we will not be producing English flyers for distribution in Quebec homes," she wrote in an e-mail copied to The Suburban." As stated before, the English version is available both in our Quebec stores as well as online. I regret that you do not find this solution satisfactory. Please know that after looking into our options, this decision is final."
Staviss was not pleased.
"What a shame, treating non-francophones as second class citizens," he said.
(function(i,s,o,g,r,a,m){i['GoogleAnalyticsObject']=r;i[r]=i[r]||function(){
(i[r].q=i[r].q||[]).push(arguments)},i[r].l=1*new Date();a=s.createElement(o),
m=s.getElementsByTagName(o)[0];a.async=1;a.src=g;m.parentNode.insertBefore(a,m)
})(window,document,'script','//www.google-analytics.com/analytics.js','ga');
ga('create', 'UA-45892555-1', 'auto');
ga('send', 'pageview');
Not available in English