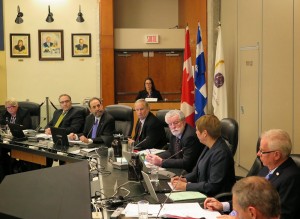 By Robert Frank
www.thesuburban.com
Lester B. Pearson School Board (LBPSB) will spend the summer looking for ways to rationalize its expenses, as last week's provincial budget tore a hole in its finances.
"The cuts are potentially much deeper than expected," LBPSB chair Suanne Stein Day told reporters in a scrum during LBPSB's March 30 council meeting. "If [the Education Ministry makes the cuts] per student, we're looking at $8.75 million in new cuts this year. That is more than double the cuts that we've had in any single year."
LBPSB commissioners voted Monday night to put everything on the table in its effort to cope with the cuts.
Stein Day declined to be specific about whether this will include school closures and mergers, though she acknowledged that all possibilities are on the table. A year ago, four of LBPSB's high schools were operating at 60 per cent capacity, a figure which has continued to fall.
"Some of them have actually declined," she acknowledged, "but again, it's important to realize that some of our high schools have a lot of other things going on in their buildings right now and the possibility to expand that concept in terms of community services, adult and vocational education or other possibilities which aren't coming to mind right now always exist so that we can maintain the communities, maintain the schools and maintain the health of the structures."
Off-island burgeoning
The picture is complicated by the fact that the LBPSB population is uneven, with many schools' enrolment sagging, whilst others are bursting at the seams, particularly to the west of Montreal.
"We're still seeing continued westward flow as young families tend to move off-island," Stein Day reported. "It's more affordable housing out there. So we're definitely seeing that. Most of our schools off-island are really at capacity. We're looking for innovative solutions there."
"We expanded St. Patrick School last year," she continued. "We haven't filled that space yet because we need to address attendance zones and programs to ensure we fill the space and use it well."
Stein Day added that LBPSB might review its current policy which permits students to attend any of the board's high schools, regardless of where they live, and to attend elementary schools outside their zone, if space permits.
"Absolutely it's possible," she said. "I stand here and say with all honesty and comfort that no decisions have been made."
"Past changes were unsettling for communities for a short time," Stein Day recalled, "but they have also done some very positive things. That's really important in this time of severe budget constraints and limited enrolment because immigrants, even if they're from English-speaking countries, can't come to our schools."
LBPSB hopes to offset some of the cutbacks with growing revenue from its private-sector revenue from its vocational and international programs which, she said, already nets the board $1.6 million per year. However, she noted that is far less than the budget hole that she currently needs to fill.
Stein Day reassured the nearly three dozen people who attended Monday's council meeting that none of the changes is imminent.
Public consultations will continue until Oct. 31, said LBPSB vice-chair Noel Burke, and the school board plans consider what steps to take at its November council meeting. The school board hopes to reach a decision before the end of 2015, though the deadline could be pushed back until Jan. 15, 2016, if necessary.
Quebec's flag flew upside-down—the international distress signal—on Monday, as LBPSB council contemplated budget cutbacks.
(Left to right) Comissioners Mary-Ann Davis, Domenic Pavoni, Craig Berger and Martin Sherman; vice-chair Noel Burke, chair Suanne Stein Day, director general Robert Mills and assistant director general Steve Balleine.
(Background) executive secretary Sabrina Kaley.
(Photo © Robert Frank)
(function(i,s,o,g,r,a,m){i['GoogleAnalyticsObject']=r;i[r]=i[r]||function(){
(i[r].q=i[r].q||[]).push(arguments)},i[r].l=1*new Date();a=s.createElement(o),
m=s.getElementsByTagName(o)[0];a.async=1;a.src=g;m.parentNode.insertBefore(a,m)
})(window,document,'script','//www.google-analytics.com/analytics.js','ga');
ga('create', 'UA-45892555-1', 'auto');
ga('send', 'pageview');