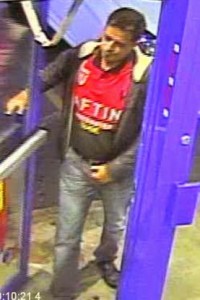 POLICE BEAT
By Robert Frank
www.thesuburban.com
Francis Villeneuve, 33, and Cindy Desormeaux-Meilleur, 28, were released on bail last week after they agreed to return to court to face illegal drug manufacturing and trafficking, conspiracy and assault charges against them.
The takedown started around 1:30 a.m., March 18, after police responded to a domestic abuse call at the Laval West home they were in at 3101 19th Avenue, where they stumbled over an alleged illegal drug laboratory.
"Both suspects showed signs of injury indicative of a fight," Sgt. Jean said in an interview. "Investigators obtained a search warrant after the police officer spotted the lab while securing the house."
"It housed scientific equipment, mixers, and an industrial press that could produce 17,000 pills an hour," Sgt. Frédéric Jean told The Suburban. "Investigators seized 546 methamphetamine (meth) pills as well as 17.6 kg of a white powder that is currently being analyzed."
He added that although the couple was known to police, they had not been on investigators' radar for this sort of infraction.
The chemicals used to manufacture meth can be dangerous if inhaled so, in the meantime, Laval Police have called in a specialized Sûreté du Québec squad that has the equipment and expertise needed to safely dismantle the lab.
Crack-head caught with crackers
Montreal resident Mark Reis-Pereira, 36, must have had the munchies.
Laval Police responding to a burglar alarm at 335 des Prairies in Chomedey, at 1:55 p.m. March 11, found him holding jewelry in one hand and a box of Ritz crackers in the other.
"He had used a shovel to force his way through the back patio door," said Sgt. Frédéric Jean. "He had stolen goods worth about $1,200 and caused about $500 in damage to the door.
Reis-Pereira has numerous prior arrests for crack cocaine possession.
"He appeared visibly intoxicated at the time," said Sgt. Jean.
Fraudster sought
Laval Police have circulated security camera images and are asking for the public's help to identify an alleged fraud artist whom they said has been ripping off gas stations in Montreal and Laval using fake credit cards.
They described him as a brown-haired, white man, aged 40-46, who sported a red sweatshirt, black jeans and jacket and a beige cap.
"He drove a number of vehicles, including a black Ford Flex with a white roof," said Sgt. Jean.
If you recognize this alleged fraud artist, Laval Police would like you to call their confidential tip line [450] 662-4636.


Tots flee Chomedey daycare
Two small boys teamed up to pry open the door and leave the Petits explorateurs daycare unnoticed, around mid-morning, March 3.
According to Laval Police, a passing postal worker alertly spotted the pair of unaccompanied toddlers running in the daycare's parking lot along busy Laurentides Boulevard in northern Vimont.
The woman took charge of the children, called police and returned the young escapees to the daycare facility, which can accommodate up to 80 young charges, aged 18 months to five years old.
The daycare reportedly summarily fired the boys' supervisor, but Const. Franco Di Genova told The Suburban that no criminal charges are pending.
Lye prank leads to third-degree burns
A practical joke at St. Maxime High School in Abord à Plouffe left fifteen-year-old Grade 10 student Joseph Ammari with third-degree burns, Feb. 26.
Ammari was standing near some lockers near the end of the school day when a friend came up from behind and dumped some white powder on top of his head.
The powder turned out to be lye, a strong alkali that is used for many practical purposes such as soap making, oven cleaning and unclogging drains. Alkalis are the opposite of acids but, like them, can also cause severe burns.
Laval Police investigated but the alleged perpetrator does not face any criminal repercussions.
"The youth who sprinkled him with powder was a friend of his," Const. Di Genova said in an interview, explaining that there is nothing more that police can do, as Ammari is unwilling to press charges.
Apple and alcohol burglars apprehended
February has been tipsy-crook catching month in Laval, where police believe that they have solved a string of break-ins at Laval schools and liquor stores.
Since March 2014, Investigators had been looking for criminals who burgled Apple computers and booze. On Feb. 25, they arrested two Pont Viau residents at 171 Place Forêt.
"Jérémie Bergeron, 20, and Cody Coupland-Picotte are suspected of having committed a 47 break-ins in Laval," Sgt. Frédéric Jean told The Suburban. "Some 35 of them were in schools — high schools mainly, as well as some grade schools, where they stole more than $400,000 worth of Apple computers during the past year."
"In addition, they have been accused of another dozen break-ins at Société des alcools stores all over Laval," he added. "Alcoholic beverages worth as much as $50,000 were stolen.
The pair had prior convictions for similar offences, Sgt. Jean said, and might be responsible for more break-ins in Montreal and the North and South Shores. Investigators said that judging by the empty bottles that found, the duo also enjoyed consuming the spoils of their crime.
"Our investigators are now liaising with other police forces in Blainville, Deux Montagnes, Mirabel, Ste. Eustache, Terrebonne, Longueuil and Montreal," he concluded.
Drunk thief caught with deer head

Laval Police arrested a 23-year-old man, Feb. 18, whom they suspect broke into cars parked at the Hilton hotel adjacent to Highway 15, at the corner of le Carrefour.
"Around 3:30 a.m., a hotel employee called 9-1-1 to say that someone in the parking look was peering with a flashlight into the cars parked there," Const. Jolyane Ledoux told The Suburban.
"The first patrol officers to arrive spotted a car leaving the premises that matched the description that the hotel employee had given to 9-1-1," she said in an interview, "so they followed him along t he Highway 15 service road.
At the same time, Const. Ledoux added, backup units arrived at the hotel, where they found that the windows of two cars left in the parking lot had been smashed.
"The proceeded to arrest the suspect, who was alone in his car," she said. "He has been charged with theft and with drunken driving."
Investigators retrieved a variety of allegedly stolen goods from his car.
"The things that he stole were mostly clothing and jewelry," Const. Ledoux reported, "as well as a mounted deer head. Apparently its owner was quite pleased to get it back."
Police also found a credit card reader and about 20 fake credit cards.
"They also found a laptop computer that might have been used to put the information on the cards," she said.
The suspect appeared before the court and was released on bail conditions, until he faces the charges against him at a later date.
The suspect was quite well-known to police, Const. Ledoux added.
"He had many, many prior convictions," she said.
(function(i,s,o,g,r,a,m){i['GoogleAnalyticsObject']=r;i[r]=i[r]||function(){
(i[r].q=i[r].q||[]).push(arguments)},i[r].l=1*new Date();a=s.createElement(o),
m=s.getElementsByTagName(o)[0];a.async=1;a.src=g;m.parentNode.insertBefore(a,m)
})(window,document,'script','//www.google-analytics.com/analytics.js','ga');
ga('create', 'UA-45892555-1', 'auto');
ga('send', 'pageview');