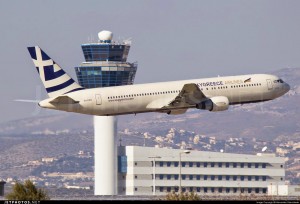 By Robert Frank
www.thesuburban.com
SkyGreece intends to expand its reach even further. The Chomedey-based airline announced that it has signed a strategic alliance with Bulgarian airline BH Air.
The deal doesn't just add potential destinations. It will also give SkyGreece access to the BH aircraft fleet.
While SkyGreece deputy chief commercial officer Denis Codere declined to provide specifics, the rapidly growing airline clearly signaled its intent to introduce more direct flights from Canada to Europe. The pact will also open the door for SkyGreece to add flights from European hubs to even more destinations.
"There are clear synergies in Europe," he told The Suburban. "European airlines can fly anywhere in Europe. The Airbus 330 will be available to use to serve cities from various places in Europe to various places in North America."
BH Air also operates three Airbus 320 and an Airbus 319 aircraft.
Last month, SkyGreece added flights to Budapest, Hungary, to its pending Canada-Europe itinerary, which already included flights to Athens and Thessaloniki in Greece, as well as tourist-season summer flights to Zagreb, Croatia. The fledgling airline also plans to operate direct Athens-New York flights.
It plans to inaugurate its first North American flight May 17.
"BH Air is a great company and the addition of their five aircraft to our program definitely makes us an important player in Eastern Europe and the Balkans," SkyGreece Vasilios (Bill) Alefantis said in a statement.
"By adding Sofia…we solidify our presence [there] and become a genuine alternative for…direct flights between Europe and North America," said the Laval-based airline founder.
"The new partnership will enable us to maximize the use of our fleet in Europe and develop a North American program from Bulgaria," added BH Air CEO Ianko Ivanov. "Canada is just one of the destinations that we wish to offer from Bulgaria."
(function(i,s,o,g,r,a,m){i['GoogleAnalyticsObject']=r;i[r]=i[r]||function(){
(i[r].q=i[r].q||[]).push(arguments)},i[r].l=1*new Date();a=s.createElement(o),
m=s.getElementsByTagName(o)[0];a.async=1;a.src=g;m.parentNode.insertBefore(a,m)
})(window,document,'script','//www.google-analytics.com/analytics.js','ga');
ga('create', 'UA-45892555-1', 'auto');
ga('send', 'pageview');