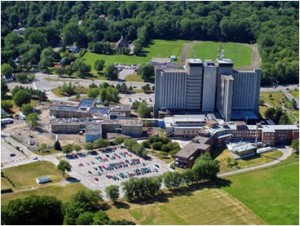 By Kevin Woodhouse
www.newscoverage.org
"This gives us hope for the future," Sainte Anne de Bellevue mayor Paola Hawa said in reference to her meeting Monday afternoon with Municipal Affairs Minister Pierre Moreau.
Hawa and Sainte Anne de Bellevue Director General Martin Bonhomme met with the minister, and Jacques Cartier MNA Geoffrey Kelley, in his Montreal offices to discuss the upcoming transfer of the Veterans' Hospital from federal to provincial jurisdiction and the detrimental financial impact it could have on the small city.
When revenue sharing different between federal and provincial governments, Sainte Anne could see a financial hit of almost four million dollars post transfer.
"Minister Moreau was cognizant of the issue and will propose some solutions within the next month," Hawa told The Suburban. "He said he would personally follow up on this file.
"While we are a centre for regional services with a CEGEP, university and then the hospital, this is simply too big a burden for our taxpayers to carry on their backs," Hawa said.
Hawa noted that what helped build the minister's confidence was that the city council had reduced its operating budget by $400,000 over the next two years "without provocation so he understood we are fiscally responsible and not seeking a handout."
The mayor and director general did not go seeking a handout or cheque "but a different way of calculating the potential amounts due and geting some land compensation for eventual development."
What gave the mayor hope that her small city will not be on the hook for a large hospital that will serve the entire West Island community as "Mr. Moreau's discourse was sincere and not simply political boilerplate. He has a true sense of understanding on this issue."
(function(i,s,o,g,r,a,m){i['GoogleAnalyticsObject']=r;i[r]=i[r]||function(){
(i[r].q=i[r].q||[]).push(arguments)},i[r].l=1*new Date();a=s.createElement(o),
m=s.getElementsByTagName(o)[0];a.async=1;a.src=g;m.parentNode.insertBefore(a,m)
})(window,document,'script','//www.google-analytics.com/analytics.js','ga');
ga('create', 'UA-45892555-1', 'auto');
ga('send', 'pageview');