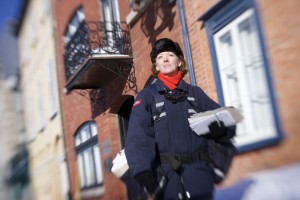 By Robert Frank
www.newscoverage.org
The central tenet of democracy is that government must be held accountable for delivering basic services.
In the federal sphere, no responsibility is more fundamental than to defend the shores and deliver the mail.
Canada Post contends that it is no longer economic to do the latter.
We demur. Nonetheless, there is good reason to believe that the federal government's choice is irreversible, since it has been presented as a fait accompli.
If that indeed proves true, then there is every reason to revoke Canada Post's lettermail privilege.
Yes, privilege. It's not a right.
The monopoly on lettermail delivery in Canada is spelled out in section 14 of the
Canada Post Corporation Act,
giving it "the sole and exclusive privilege of collecting, transmitting and delivering letters to the addressee thereof within Canada."
Our position is that the government should continue to deliver the mail. However, if it does not, Canada Post's lettermail privilege is no longer tenable.
True, the advent of the internet has changed the nature of the postal delivery business. That is a far cry from harkening its demise.
Edison's invention of motion pictures didn't lead to the demise of theatre. Television didn't eliminate movies and the internet hasn't eliminated television. All of those media were changed profoundly, nonetheless, and each learned to capitalize on its unique strengths, in order to survive. Likewise for lettermail.
Private corporations would love to get into the lettermail business. Indeed, there's a strong precedent: The federal government has already eroded Canada Post's lettermail monopoly.
In October 2007, federal cabinet minister Lawrence Cannon tabled a law that now permits private carriers to collect lettermail, so long as it is delivered outside Canada "to facilitate more competitiveness for companies within the mail industry worldwide."
Today, you can save money by having a private firm take your letter or package and truck it across the border for delivery by the United States Postal Service, for example. Besides costing less, the mail also arrives sooner.
The standard has been set. We prefer that Canada Post summon the will to undertake a radical restructuring. Fail to continue to deliver the mail to Canadians, though, and Canada Post must stand aside for someone who can.
(function(i,s,o,g,r,a,m){i['GoogleAnalyticsObject']=r;i[r]=i[r]||function(){
(i[r].q=i[r].q||[]).push(arguments)},i[r].l=1*new Date();a=s.createElement(o),
m=s.getElementsByTagName(o)[0];a.async=1;a.src=g;m.parentNode.insertBefore(a,m)
})(window,document,'script','//www.google-analytics.com/analytics.js','ga');
ga('create', 'UA-45892555-1', 'auto');
ga('send', 'pageview');