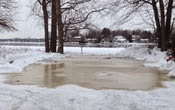 By Robert Frank
www.newscoverage.org
It's sno-cone time in Laval again, where public safety officials have stepped up their watch over the shores of Île Jésus, after Rivière des Prairies overflowed its banks, Feb. 17, covering the end of Jetté Street in Sainte Dorothée with water.
Persistent cold weather has turned the rivers that surround the city into a thick, supercooled slushy mix—known as frazil—rather than just freezing on top.
"That could slightly raise the water level in all rivers…over the next few days up to 20 cm" Quebec public safety officials said in a statement, and "could last a few days."
Deep-freeze temperatures can combine with fast-flowing current to cause bottom freezing, where ice forms at the bottom of the river, rather than on the surface. That causes water to well up where the channel is shallow.
Last year, Laval firefighters deployed their stockpile of sandbags, after that sno-cone-like suspension obstructed the channels surrounding the island and caused the rivers' water level to rise.
Some shorelines in Sainte Dorothée, Laval des Rapides and St. François experienced some inundation a year ago, when rain, combined with unusually high, above-zero temperatures, melted accumulated snow—the equivalent of a torrential downpour. The land surrounding Lévesque Boulevard in Laval des Rapides is particularly low near the river.
Hydro Quebec also engaged in helping the city with flood mitigation last January. It used its vessels to keep a channel open from near the Pont Viau bridge to its hydroelectric dam on Rivière des Prairies.
Laval public safety workers monitor the levels in Rivière des Prairies and Rivière des Mille Îles on a daily basis.
Flooding at the end of Jetté Street in Sainte Dorothée
(function(i,s,o,g,r,a,m){i['GoogleAnalyticsObject']=r;i[r]=i[r]||function(){
(i[r].q=i[r].q||[]).push(arguments)},i[r].l=1*new Date();a=s.createElement(o),
m=s.getElementsByTagName(o)[0];a.async=1;a.src=g;m.parentNode.insertBefore(a,m)
})(window,document,'script','//www.google-analytics.com/analytics.js','ga');
ga('create', 'UA-45892555-1', 'auto');
ga('send', 'pageview');