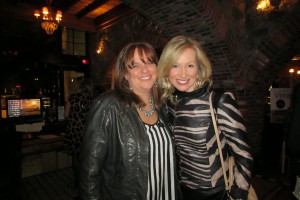 By Rhonda Massad
www.thesuburban.com
Eat Love Live, the annual women's only Valentine's fundraising event put on by the West Island Cancer Wellness Center raised $26,000 at this year's event. More than 100 women came out to an evening hosted by TV personality Lori Graham at 40 Westt.
The event is famous for firemen selling raffle tickets for glorious prizes and this year some police from Station One in Kirkland joined the party. There was a photo booth (John Koo Photography) where the ladies could dress up and take fun shots with friends, a clairvoyant and a really fun Gloss Bar where the women could buy a lip gloss with their choices of colours, scents, that were created on site.
The silent auction was filled with many items from spa certificates to restaurant deals. The weather was bitter cold but according to co-founder and three time cancer survivor, Debbie Magwood, one in five people will get cancer in their life time.
"I am a cancer expert not a victim," Magwood told The Suburban in an interview. "We have helped thousands of people at our centre. Each year we directly serve 220 people but we teach those people how to live well and they teach those around them to live well."
"Part of our mission is to help the community at large through these relationships."
"Events like this provide finances to keep the centre going but it also provides a special time for friends to get together and have fun."
CTV's Lori Graham and WICWC Debbie Magwood host Eat Love Live at 40 Westt
(Photo © Rhonda Massad)
(function(i,s,o,g,r,a,m){i['GoogleAnalyticsObject']=r;i[r]=i[r]||function(){
(i[r].q=i[r].q||[]).push(arguments)},i[r].l=1*new Date();a=s.createElement(o),
m=s.getElementsByTagName(o)[0];a.async=1;a.src=g;m.parentNode.insertBefore(a,m)
})(window,document,'script','//www.google-analytics.com/analytics.js','ga');
ga('create', 'UA-45892555-1', 'auto');
ga('send', 'pageview');