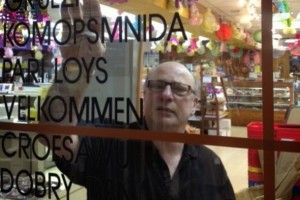 Persecution enters 38th year
By Robert Frank
www.thesuburban.com
Though Quebecers might abhor abrogating freedom of speech, the language police remain tireless in their pursuit of Swiss Vienna Pastry's harmless expression in nearly three-dozen languages.
For the umpteenth time, two inspectors entered Harry Schick's delicatessen and bakery shop in Pointe Claire last week, to photograph the interior of his store. They were looking for infractions of the province's language laws.
Tongue troopers have relentlessly pressed complaints about the sign beside the entrance to Swiss Vienna, which says 'Welcome' in 35 languages "including the original languages of Quebec: Cree and Inuktitut," Schick reminded.
"Two inspectors came in and asked for permission to check signs inside the store," he told The Suburban. "I asked one of them whether they had a search warrant and they didn't. So I told her 'in that case, you can take photographs of my signs from outside. Then she walked out with the other gentleman."
"As she walked out, she said 'on reviens'," Schick added. "'We will return'. I didn't answer," he said in an interview. "I just let it go. We'll see what happens; what their next step is."
He believes that ultimately it's unjust for the government to treat one language as superior to another.
"Until someone tells me that a French customer is three times better than an English customer, my signs will remain the same size," he vowed. "Until the Supreme Court of Canada rules that you can't have a bilingual sign in Canada—and Quebec is still part of Canada—my signs are going to remain the same size."
"I can't see any court, any government saying you're not allowed to be bilingual on a sign and impose a fine or a jail term. That's why my signs are what they are," Schick said.
Schick, who has operated his Pointe Claire business for more than a half-century, has repeatedly gained national and international notoriety many times since the province's tongue troopers first trod into his deli soon after Bill 101 became law, 38 years ago.
Last year, the attention went viral after he dubbed one of his dishes Pasta Salad Marois, after Quebec language police sent him a letter telling him that using the word 'pasta' on in-store signs is prohibited in the province.
Schick rued that the province keeps secret the identity of whoever files a complaint, which violates standard notions of justice.
"We never know our accuser," he sighed.
Although proscribing minority language is widely recognized as violating basic freedom of expression, Quebec has opted to suspend those rights by using a loophole in the Canadian constitution known as "the notwithstanding clause."
(function(i,s,o,g,r,a,m){i['GoogleAnalyticsObject']=r;i[r]=i[r]||function(){
(i[r].q=i[r].q||[]).push(arguments)},i[r].l=1*new Date();a=s.createElement(o),
m=s.getElementsByTagName(o)[0];a.async=1;a.src=g;m.parentNode.insertBefore(a,m)
})(window,document,'script','//www.google-analytics.com/analytics.js','ga');
ga('create', 'UA-45892555-1', 'auto');
ga('send', 'pageview');
Swiss Vienna Pastry owner Harry Schick